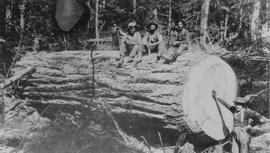 Norton-McKinnon Logging Company
Four loggers unknown.
In 1911, McKinnon and Norton of the Newport Timber Company were logging in Squamish in the area known as the base camp road, near Curly Lews' place. They had donkeys, a large shay engine, and a weird whistle. Mr McKinnon was a bartender and Mr Norton was a logger. Amedy Levesque and George Laviolette worked as brakemen on the locomotive. The camp was run by Mr Fuller.