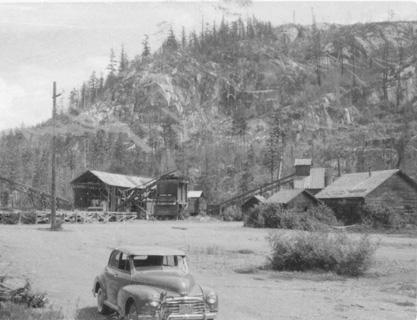 Elements area
Description
In March 1930, Empire Mills planned to merge with the Vancouver firm of Mount Baker Plywood Ltd. They had planned to move the firm's South Westminster veneer plant to Squamish. Due to the possibility of the Forest Service cutting back the boundaries of the Mill's tree farm license, the project did not get past the planning stage. In 1937, Empire Logging employed 20 men and by 1939, they were putting 60,000 - 70,000 board feet of wood in the water per day and employed approximately 30 men.
In the 1940's, Empire Mills acquired a sawmill situated by River Road. It had been built by Gerry Dent in the 1930's. In 1945, Empire Logging had bunkhouses set up in the hotel that used to be owned by the Galbraith's at the water's edge. Empire Logging had its first strike in 1948. Unions had just been formed at this time. John Jacobsen was the foreman for Empire Mills.
Empire Mills applied for tree farm license #38 on July 25, 1951. The application was approved and granted to Empire Mills on June, 15, 1954. The decision was appealed by the provincial cabinet on September 7, 1954.
Empire Logging shut down due to lack of a profitable market in August 1957.
In October 1958, Squamish independent sawmill and logging operators (12 firms) protested the granting of tree farm license #38 to Empire Mills stating that it created a dangerous monopoly. H.H. "Buster" Marks acted as chairman of the logger's group. Empire Milles planned to build a sawmill and plywood and board plant in Squamish if the tree farm license was granted. Council approved allocation of timber for Empire Mills in November 1958. On November 26, 1958, MacMillan Bloedell opposed the tree farm license stating that timber remaining outside the license area would be inadequate for independent loggers. Tree Farm License #38 was again approved to be granted to Empire Mills in January 1960.
In 1960, Kashmir Lumber Company bought Empire Mills' unused mill on River Road.
On June 2, 1961, Tree farm license #38 was granted to Keely and Jacobs of Empire Mills Ltd. A condition of granting the license was that the holder of the license had to build a plywood mill in Squamish to provide a minimum of 25 million board feet of lumber. The contract clause stated that 50% of the production had to be logged by outside contractors. Empire Mills formed a Lumber Division so that a mill could be built as stipulated in the tree farm license.
In 1961, Empire Logging produced 41,500 units of lumber (1 unit = 100 cubic feet).
Empire Mills Co. was bought by Canadian Colleries Resources Ltd. in 1962 and they obtained control of the tree farm license #38 area. They had the conditions of the license changed to building a hemlock sawmill instead of a plywood plant. This change was due to the overproduction of plywood and the resulting slower market.
Subject
Subject
Source
Squamish Public Library, Squamish Files: Industry.
Relation (isLocatedAt)
Digital object (Master) rights area
Digital object (Reference) rights area
Digital object (Thumbnail) rights area