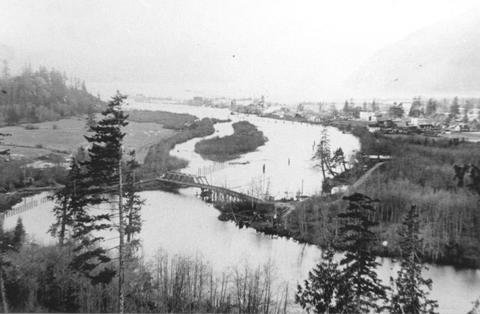 Elements area
Title
View of Squamish around 1901 - 1905
Subject
Subject
Subject
Description
View of Squamish around 1901 - 1905. View of Mamquam River before it changed its course. Magee's hay field on the left.
Mamquam River was named for the Indian word meaning "smelly water".
Squamish is named for the Indian word "Squohomish" (various spellings) meaning "strong wind". The name was changed to Newport in 1911 by the H.S. and P.V.N. Railway and was changed back on September 14, 1914 as the result of a contest for school children. The name had to be changed since there was another town in BC named Newport. The twelve final names considered in the contest were: Newport, Strathacona, Prince Arthur, Kingsport, Great Haven, Columbia, Imperial, Squamish, Pacificgate, Bonaventure, and Viveleroi.
Source
Squamish Public Library, Squamish Files: Place Names.
Relation (isLocatedAt)
Coverage (spatial)
Digital object metadata
Uploaded
October 14, 2011 1:26 PM
Digital object (Master) rights area
Digital object (Reference) rights area
Digital object (Thumbnail) rights area