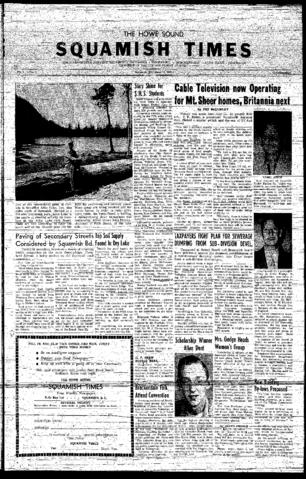 Elements area
Title
Squamish Times: Wednesday, June 19, 1957
Description
[PHOTO]
STAR SHINE FOR S.H.S. STUDENTS
CABLE TELEVISION NOW OPERATING FOR MOUNT SHEER HOMES, BRITANNIA NEXT
BY PAT MCCAWLEY
[PHOTO]
CYRIL FITCH
PAVING OF SECONDARY STREETS CONSIDERED BY SQUAMISH BOARD
TOP SOIL SUPPLY FOUND IN DRY LAKE
TAXPAYERS FIGHT PLAN FOR SEWERAGE DUMPING FROM SUB-DIVISION DEVEL
[PHOTO]
Leaving soon for a prolonged holiday in Great Britain is Ken Richardson,
G. F. SHAW POSTED HERE
BRACKENDALE FOLK ATTEND CONVENTION
SCHOLARSHIP WINNER ALLAN DENT
[PHOTO]
MRS. GEDGE HEADS WOMEN'S GROUP
NEW BUILDING BY-LAWS PROPOSED
ST. JOHN'S CHURCH
REVEREND C. H. GIBBS
WATER SAFETY WEEK -- JUNE 16 TO 22
WHERE DO WE GO FROM HERE?
NEW VILLAGE DUMP CLOSED TO PUBLIC
[PHOTO]
SHADE OF THE SPHINX
FRONT PAGE NEWS
SERIOUS THINKING
LETTER TO PRESIDENT OF U.S.A.
LETTERS TO THE EDITOR
MIDGETS UNITE!
WITHIN HIS TUNE
CONTEMPORARY OPINION
MEN IN OFF-WHITE
ON LIGHTER SIDE
MOUNT SHEER NEWS
BY MR. AND MRS. PAT MCCAWLEY
NEWTON STEACY REPORTS ON PGE DEVELOPMENT IN NORTH
[PHOTO]
HISTORY REPEATS ITSELF AGAIN
AROUND THE GARDEN
BY E.L.S.
GROWING PRIMROSES FROM SEED
GREAT NORTHERN BUYS PROPANE GAS FIRM
BARBARA GRANT OUTLINES PLANS FOR EXCITING 3-MONTH TOUR OF EUROPE
TOWNSPEOPLE DRESS IN COSTUMES OF 1845 FOR CHURCH CEREMONY
PRINCE PHILIP BECOMES INTERNATIONAL TELEVISION STAR
[PHOTOS]
YOUR FAMILY'S HEALTH
THE PROBLEM OF OLD AGE
SOCIAL NOTES
RESEARCH DONE ON POTATOES
[PHOTO]
NEW CPAL ROUTE TO LISBON
LET'S EAT
BY IDA BAILEY ALLEN
CROSSWORD
BY A. C. GORDON
[CROSSWORD PUZZLE]
GARDEN-GRAPH
BY DEAN HALLIDAY
[DRAWING]
2500 FT. DAM FOR SQUAMISH POWER
[PHOTO]
MART KENNEY
[PHOTO]
NORMA LOCKE
[PHOTO]
FASHIONS
[DRAWING]
NEW PICNIC SITE GETS "GREEN TIMBERS" NAME
[PHOTO]
FASHION A FAN
FAN TANS
[PHOTO]
Arthur Askey, Britain's pocket sized comedian, with Sabrina who takes part in his latest Variety series "Askey, Galore!"
CENTURY SAM SAYS
TROUT FISHING FOR YOUNGSTERS ONLY ON THIS STREAM
[PHOTO]
LOCAL NIMRODS WIN JUNIOR TROPHY
HOWE SOUND ZONE TRACK AND FIELD MEET RESULTS
OUR TOWN
BY JACK SCOTT
A NEW WRITER
CHRISTIAN WAY
IMAGINATION AND VISION
BY ANDREW LUM
SOCIAL NOTES
NEW ARRIVALS
CLASSIFIED ADS
FOR SALE
WANTED TO BUY
PERSONAL
CORPORATION OF THE VILLAGE OF SQUAMISH
Relation (isLocatedAt)
Digital object metadata
Filename
19570619_Squamish_Times.pdf
Uploaded
December 28, 2011 11:04 AM
Digital object (Master) rights area
Digital object (Reference) rights area
Digital object (Thumbnail) rights area