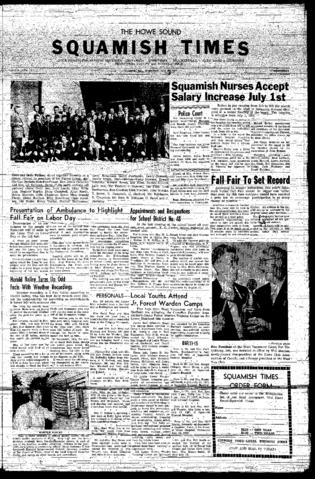 Elements area
Title
Squamish Times: Wednesday, July 24, 1957
Description
[PHOTO]
CUBS AND THEIR FATHERS
SQUAMISH NURSES ACCEPT SALARY INCREASE JULY 1ST
POLICE COURT
PRESENTATION OF AMBULANCE TO HIGHLIGHT FALL FAIR ON LABOR DAY
APPOINTMENTS AND RESIGNATIONS FOR SCHOOL DISTRICT NO. 48
FALL FAIR TO SET RECORD
HAROLD BAILEY TURNS UP ODD FACTS WITH WEATHER RECORDINGS
PERSONALS
LOCAL YOUTHS ATTEND JUNIOR FOREST WARDEN CAMPS
BIRTHS
[PHOTO]
NEW PRESIDENT of the West Vancouver Lions, Pat McGillivray, left, was installed in office by Wilf Munton, newly-elected vice-president of the Lions Club Associations of Canada, and a former president of the West Van Club.
[PHOTO]
HAROLD BAILEY
LET'S NOT GATHER ANY MOSS
THE WEEKEND PREDICTIONS
[CARTOON]
LETTERS TO THE EDITOR
RE PETITION FOR INCORPORATION OF THE CITY OF SQUAMISH
SERIOUS THINKING
DESTRUCTION BY TAXATION
CONTEMPORARY OPINION
AH YOUTH
ONTARIO MAN PRAISES P.G.E.
OUT ON A LIMB
BY STUMPY MCCULLOCH
NATURE SCRAPBOOK
CENSUS TAKING OF BIG GAME ANIMALS FROM AIRCRAFT
BETTER GOLFING WITH WOODEN SHOES
OLD FLOOR
FACTORY GROWN TIMBERS
[PHOTO]
LIEUTENANT GENERAL GRAHAM
SCHOOL BOARD OK BLACK WATER SCHOOL
CHRISTIAN WAY
GROWING UP IN A RECTORY
BY BABE
7-UP CRUMBLY PEACH PIE
OUT ON A LIMB
[PHOTO]
"BATISSE."
CROSSWORD
BY A. C. GORDON
[CROSSWORD PUZZLE]
BY JACK SCOTT
THE SIMPLE LIFE
SUMMER SHRUBS - SUMMER PRUNING
BY E. L. S.
OUT ON A LIMB
BY STUMPY MCCULLOCH
WIFE PRESERVERS
[DRAWING]
SIXTH NEW RCN WARSHIP TO BE COMMISSIONED JUNE 28
[PHOTO]
PERSONALS
7-UP IN JELLO
FASHIONS
[PHOTO]
[PHOTO]
ON THE LIGHTER SIDE
LET'S EAT
BY IDA BAILEY ALLEN
7-UP FISH FILLET
MR. ELGIN TETACHUCK MARRIES SHARON ANDERSON OF VANCOUVER
RECIPES FOR GOOD EATING
CORN FRITTERS
GREEN RICE
SEEDING, PIPE LAYING NOW PART OF PRAIRIE SCENE
[PHOTO]
CROSSWORD
BY A. C. GORDON
[CROSSWORD PUZZLE]
CROSSES CONTINENT TO ATTEND THE MET
[PHOTO]
ON LIGHTER SIDE
'CENTURY SAM SAYS'
CENTURY SAM SAYS
[PHOTO]
SALAD WEEK
GOOD SALAD FOR LUNCHEON OR SUPPER
SCOTT'S SCRAP BOOK
BY R. J. SCOTT
[CARTOON]
NATURE SCRAPBOOK
BY BILL MYRING
$50,000 WORTH OF GIRLS' BEST FRIEND
[PHOTO]
C. THORNE HEADS RATEPAYERS ASSOCIATION
FORESTRY ASSOCIATION TO PROVIDE CAMPING INFORMATION SERVICE FOR SQUAMISH
FASHIONS
PGE STATION WANTED BY MERCHANTS
[PHOTO]
HALIBUT SALAD, TEMPTING SUPPER
WOMEN'S INSTITUTES TO COMPILE B.C. COOKBOOK FOR CENTENNIAL
VANCOUVER PARTY TO HOST PREMIER
LOCAL FIRM QUALIFIES FOR SAW CHAIN SERVICE GROUP
[PHOTO]
LINDA STREET AT HANEY
OUR TOWN
BY JACK SCOTT
NEW FRIENDS
'CENTURY SAM SAYS'
BY CENTURY SAM
[PHOTOS]
CLASSIFIED ADS
PERSONAL
FOR SALE
SITUATION WANTED
WANTED TO BUY
HELP WANTED
FOR RENT
BIRTHDAY PARTY FOR GRANT YOUNG
PATRICIA MAHOOD HONORED AT PARTY
MANY ATTEND NEW ABATTOIR
Relation (isLocatedAt)
Digital object metadata
Filename
19570724_Squamish_Times.pdf
Uploaded
December 28, 2011 12:01 PM
Digital object (Master) rights area
Digital object (Reference) rights area
Digital object (Thumbnail) rights area