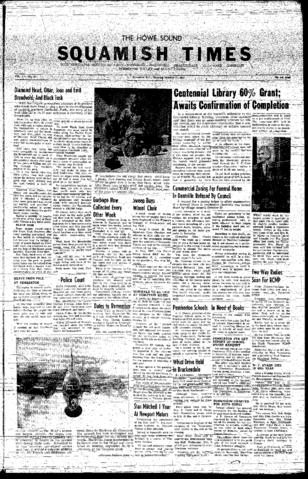 Elements area
Title
Squamish Times: Thursday, October 31, 1957
Description
DIAMOND HEAD, OTTAR, JOAN AND EMIL BRANDVOLD; AND BLACK TUSK
HEAVY SNOW FALL AT PEMBERTON
POLICE COURT
[PHOTO]
GARBAGE NOW COLLECTED EVERY OTHER WEEK
SWEEP BUYS WHEEL CHAIR
DATES TO REMEMBER
SIDEWALK TO BE LAID AT CHIEFTAIN HOTEL
CENTENNIAL LIBRARY 60% GRANT; AWAITS CONFIRMATION OF COMPLETION
COMMERCIAL ZONING FOR FUNERAL HOME IN DENTVILLE REFUSED BY COUNCIL
[PHOTO]
WHAT
PEMBERTON SCHOOLS IN NEED OF BOOKS
TWO WAY RADIOS SOON FOR RCMP
[PHOTO]
BEING 'NOSEY'
STAN MITCHEL 1 YEAR AT NEWPORT MOTORS
WHIST DRIVE HELD IN BRACKENDALE
PEMBERTON PTA GET REPORT OF SCHOOL BOARD BANQUET
PERMISSION GRANTED FOR AUTO COURT
W. F. EVANS DIES IN 68TH YEAR
IMPROVE SQUAMISH-BRITANNIA ROAD NOW
'PERFECT ENGLISH'
SUPPORT YOUR LOCAL PROJECTS
[CARTOON]
"CHEQUE MARKED 'ROYALTIES' IN THE MAIL. MALCOLM... SHALL I SEND IT BACK?"
PERSONALS
MOUNT SHEER NEWS
PTA HALLOWE'EN PARTY FOR PEMBERTON
SQUAMISH HUNTERS BACK FROM INTERIOR
ODDS AND ENDS
P.O.A.C. PLAN ANOTHER 100 CHURCHES IN 1958
FIRST CANADIAN TO ENTER MISS WORLD CONTEST
[PHOTO]
ZULETTE RECOUNTS HER VISIT AT CAMP WITH NORWEGIAN GUIDES
BY ZULETTE LANDON
CENTENNIAL DOINGS
BY TONY MARTIN
[PHOTO]
SALAD SANDWICH
SQUAMISH RESIDENT SEES SQUAMISH SATELLITE
OUR TOWN
BY JACK SCOTT
GUEST LIST
RECENT PUBLISHERS' RELEASES
[PHOTO]
QUEEN'S INSPECTION
"HOWE ARE YOU?"
[PHOTO]
MR AND MRS STANLEY PEARDON
SANDRA GREER LOVELY BRIDE AT FALL WEDDING
[PHOTO]
BECAUSE
R. WAGNER ELECTED SECRETARY OF B-MRA
OPENING CEREMONIES FOR PEMBERTON SCHOOLS NOVEMBER 14
SHORE-GILMORE PEMBERTON WEDDING
CLASSIFIED ADS
WANTED TO RENT
FOR RENT
WANTED TO BUY
LOST
PERSONAL
HELP WANTED
FOR SALE
BUSINESS SERVICES
ANNOUNCEMENT
HOW CAN PRESCRIPTIONS COST SO LITTLE?
BY JOHN C. HELENORE, PH.G.
Relation (isLocatedAt)
Digital object metadata
Filename
19571031_Squamish_Times.pdf
Uploaded
December 28, 2011 5:03 PM
Digital object (Master) rights area
Digital object (Reference) rights area
Digital object (Thumbnail) rights area