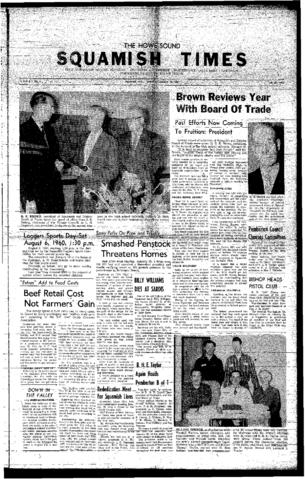 Elements area
Title
Squamish Times: Thursday, January 28, 1960
Description
[PHOTO]
B. H. BROWN
LOGGERS SPORTS DAY SET AUGUST 6, 1960, 1:30 P.M.
"EXTRAS" ADD TO FOOD COSTS
BEEF RETAIL COST NOT FARMERS' GAIN
SNAG FALLS ON PIPE AND TRESTLE
SMASHED PENSTOCK THREATENS HOMES
BILLY WILLIAMS DIES AT SARDIS
BROWN REVIEWS YEAR WITH BOARD OF TRADE
PAST EFFORTS NOW COMING TO FRUITION: PRESIDENT
[PHOTO]
W. H. SMITH
PEMBERTON COUNCIL CHOOSES COMMITTEES
BISHOP HEADS PISTOL CLUB
DOWN IN THE VALLEY
REDEDICATION MEET FOR SQUAMISH LIONS
R. H. E. TAYLOR AGAIN HEADS PEMBERTON BOARD OF TRADE
[PHOTO]
VILLAGE COUNCIL
DIVIDE AND DEVELOP GARIBALDI...
CLEAN UP THE ROCKS, PLEASE...
EVERYBODY'S BUSINESS...
RECENT PUBLISHERS' RELEASES
[CARTOON]
"There's mother filling her third application this week for private TV..."
BOOK REVIEW
ANATOMY OF A MURDER
BY ROBERT TRAVER
BY JOAN GREENWOOD
DATES TO REMEMBER
JUNE 27 TO AUGUST 12 AT UBC
EXTENSIVE PROGRAM AT SUMMER SCHOOL
LETTERS TO THE EDITOR
MOUNT CURRIE BOY DIES IN VANCOUVER
[PHOTO]
A $1,000,000 GIFT
JUNGLE SCHOOL
COURTESY HALLMARK OF JAPAN
BY MANSON TOYNBEE
[PHOTO]
THIS IS A typical Japanese house with a pond in the garden.
[PHOTO]
MAMQUAM VOLUNTEER
VOWS EXCHANGED JANUARY 16
FRASER - AUSTIN IN PEMBERTON RITES
BRIDGE, CANASTA AT BEACH PARTY
GARIBALDI NEWS
BY AKDI STOCKEE
BIBLE TEACHING AIDED BY SLIDES
KITCHEN KAPERS
BY PEG TINNEY
PEMBERTON FAIR CHOSES OFFICERS
WOODFIBRE NEWS
TO HEATHER RUDKIN
[PHOTO]
FIREMEN AND MECHANICS
TRACK-DOWN AT HOWE SOUND HIGH
BY DIANE ELLIOT
SEVENTH BIRTHDAY FOR DONNA HINDE
BRITANNIA BEACH NEWS
BY MARY SMITH
WEIGHT MARKINGS ON ALL TRUCKS
[PHOTO]
AT THE RED BRIDGE
FIRST LEAGUE LOSS
CHIEFTAINS BOW TO HORNETS' BUZZING
JUDY FAIRBANKS HI-C SECRETARY-TREASURER
TRADES LICENCES DUE JANUARY 15
NORTH YARD NEWS
BY PEG TINNEY
SOCIAL NOTES
BY FREDA MUNRO
[PHOTO]
WHENEVER THERE IS A BANQUET
THE COMMON ROUND
BY C.S.Q.H.
CLASSIFIED ADS
Relation (isLocatedAt)
Digital object (Master) rights area
Digital object (Reference) rights area
Digital object (Thumbnail) rights area