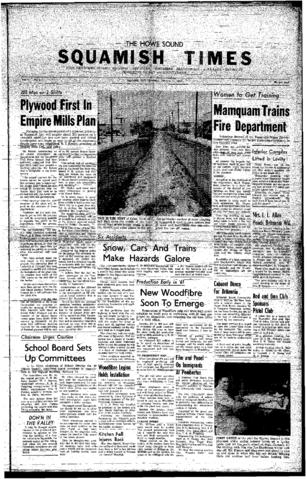 Elements area
Title
Squamish Times: Thursday, January 21, 1960
Description
200 MEN ON 2 SHIFTS
PLYWOOD FIRST IN EMPIRE MILLS PLAN
CHAIRMAN URGES CAUTION
SCHOOL BOARD SETS UP COMMITTEES
[PHOTO]
THIS IS THE SORT
SIX ACCIDENTS
SNOW, CARS AND TRAINS MAKE HAZARDS GALORE
PRODUCTION EARLY IN '61
NEW WOODFIBRE SOON TO EMERGE
WOODFIBRE LEGION HOLDS INSTALLATION
FILM AND PANEL ON IMMIGRANTS IN PEMBERTON
WOMEN TO GET TRAINING
MAMQUAM TRAINS FIRE DEPARTMENT
INTERIOR COMPLEX LIFTED IN LEVITY
MRS. L. L. ALLAN HEADS BRITANNIA WA
CABARET DANCE FOR BRITANNIA
ROD AND GUN CLUB SPONSORS PISTOL CLUB
[PHOTO]
WHO SAID IT COULDN'T BE DONE...
TRUCKING TO SQUAMISH...
A WONDERFUL WEEKEND...
OUR PRECIOUS GIFT...
RECENT PUBLISHERS' RELEASES
[CARTOON]
"Well, it was just a thought..."
SYMPHONY WELL RECEIVED
OUR FIRST REAL SYMPHONY CONCERT
BY FRED LEEWORTHY
WOODFIBRE NEWS
BY HEATHER RUDKIN
DON'T WAIT FOR ENUMERATION
PROVINCIAL VOTERS MAY REGISTER NOW
DATES TO REMEMBER
SHOWER FOR BRIDE ELECT AT PEMBERTON
[PHOTOS]
JUNGLE SCHOOL
TRUE ATMOSPHERE IN RURAL JAPAN
BY MANSON TOYNBEE
[PHOTO]
SLOW DOWN
KITCHEN KAPERS
BY PEG TINNEY
BRITANNIA BEACH NEWS
BY MARY SMITH
TRACK-DOWN AT HOWE SOUND HIGH
BY DIANE ELLIOTT
MT. SHEER ELECTS TO SOCIAL CLUB
COMMUNITY CENTRE OPENING AT BEACH
[PHOTO]
EVEN THE SEAGULLS
THE COMMON ROUND
BY C.S.Q.H.
B.C. SHIPS 20,000 LESS CATTLE TO U.S.
FIRE BRIGADE PROPOSED
CHRIS ARNET AGAIN FARMER'S PRESIDENT
E. HANSEN HAS NORTH VANCOUVER CONTRACT
ANNUAL MEETING OF LIBRARY ASSOCIATION
1959 RECORD YEAR FOR PGE FREIGHT
SEVENTH BIRTHDAY FOR DEBBIE GOAD
ROSE FROM SAMPLER TO MANAGER
MINING EXECUTIVE G. C. LIPSEY, DIES
MOUNT SHEER NEWS
BY KAY PICKARD
CLASSIFIED ADS
Relation (isLocatedAt)
Digital object (Master) rights area
Digital object (Reference) rights area
Digital object (Thumbnail) rights area