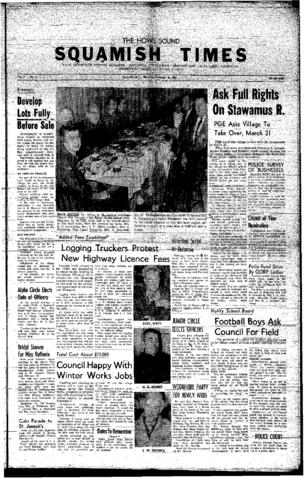 Elements area
Title
Squamish Times: Thursday, February 18, 1960
Description
BRENNAN:
DEVELOP LOTS FULLY BEFORE SALE
ALPHA CIRCLE ELECTS STATE OF OFFICERS
[PHOTO]
BEAN SUPPER
"ADDED FEES EXORBITANT"
LOGGING TRUCKERS PROTEST NEW HIGHWAY LICENCE FEES
VALENTINE SOCIAL AT BRITANNIA
ASK FULL RIGHTS ON STAWAMUS RIVER
PGE ASKS VILLAGE TO TAKE OVER, MARCH 31
POLICE SURVEY OF BUSINESSES
CITIZEN OF YEAR NOMINATION
POLIO FUND DRIVE BY OORP LADIES
BRIDAL SHOWER FOR MISS RAFFAELE
CUBS PARADE TO ST. JOSEPH'S
TOTAL COST ABOUT $12,000
COUNCIL HAPPY WITH WINTER WORKS JOBS
DATES TO REMEMBER
[PHOTO]
EARL WATT
[PHOTO]
N. H. MARKS
[PHOTO]
J. W. DRENKA
JUNIOR CIRCLE ELECTS OFFICERS
WOODFIBRE PARTY FOR NEWLY WEDS
NOTIFY SCHOOL BOARD
FOOTBALL BOYS ASK COUNCIL FOR FIELD
POLICE COURT
OUT OF SEASON WADING...
STILL THE BEST TO READ...
USE YOUR HEAD...
SPRING FEVER...
RECENT PUBLISHERS' RELEASES
[CARTOON]
"... and forsake the crowded highway, the traffic snarl, the parking problems for new horizons midst the vast expanses of our ocean heritage..."
YOUR FIGURE; YOUR WEIGHT; YOUR BULGES; A PROBLEM?
BOOK REVIEW
JOURNEY DOWN A RAINBOW
BY J. B. PRIESTLEY AND JACQUETTE HAWKES
BY JOAN GREENWOOD
DATES TO REMEMBER
FOUR-YEAR COURSE FOR PHARMACY
JUNGLE SCHOOL
MANNERS AND MORALS IN SARAWAK
BY MANSON TOYNBEE
MOUNT SHEER NEWS
BY KAY PICKARD
[PHOTO]
MARMALADE 'N APPLE PUDDING
[PHOTO]
ONION-BROILED FISH FILLETS
THE COMMON ROUND
BY C.S.Q.H.
HORNETS WIN PLAYOFF SPOT
GIBSONS ORPHANS BOW TO CHIEFTAINS
SOCIAL NOTES
EIGTH BIRTHDAY FOR ALLAN CROSSON
SISTERS CELEBRATE THEIR BIRTHDAYS
DATES TO REMEMBER
BRITANNIA BEACH NEWS
BY MARY SMITH
[PHOTO]
GRAND BUDDHIST
CUBS PARADE TO UNITED CHURCH
KITCHEN KAPERS
BY PEG TINNEY
BOOKS ARRIVE
NEW EDITIONS AT PUBLIC LIBRARY
FIRE ALARMS FOR CHIMNEY FIRES
[PHOTO]
THIS ARTIST'S
ON MARCH 7
3 ONE ACT PLAYS BY HIGH SCHOOL DRAMA CLUB
TWELFTH BIRTHDAY FOR CAROL LASSER
PGE COMMUNITY HALL SOLD TO NEW MOTEL BUILDER
CLASSIFIED ADS
Relation (isLocatedAt)
Digital object (Master) rights area
Digital object (Reference) rights area
Digital object (Thumbnail) rights area