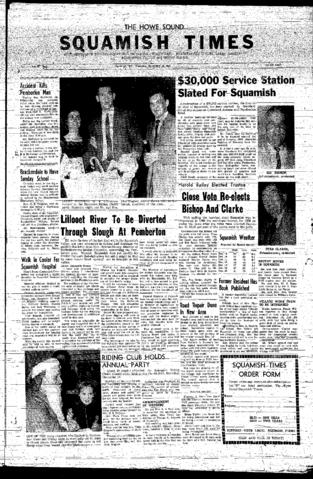 Elements area
Title
Squamish Times: Thursday, December 19, 1957
Description
ACCIDENT KILLS PEMBERTON MAN
BRACKENDALE TO HAVE SUNDAY SCHOOL
WALK IN COOLER FOR SQUAMISH HOSPITAL
[PHOTO]
LUCKY WINNERS
LILLOOET RIVER TO BE DIVERTED THROUGH SLOUGH AT PEMBERTON
[PHOTO]
ONE OF THE
RIDING CLUB HOLDS ANNUAL PARTY
ANNOUNCEMENT OF WEDDING
$30,000 SERVICE STATION SLATED FOR SQUAMISH
[PHOTO]
SIDE BISHOP, COMMISSIONER, RE-ELECTED
HAROLD BAILEY ELECTED TRUSTEE
CLOSE VOTE RE-ELECTS BISHOP AND CLARKE
SQUAMISH WEATHER
[PHOTO]
STAN CLARKE
COMMISSIONER, RE-ELECTED
ROAD REPAIR DONE IN NEW AREA
FORMER PRESIDENT HAS BOOK PUBLISHED
RECENT MOVES IN SQUAMISH
VILLAGE WORK CREW TO BE INCREASED
POLICE COURT
TWO-LEGGED TRAFFIC
HEAR THE WOOD SMOKE
FLAMORIZING VIOLENCE...
[PHOTO]
CAULFEILD FIRE DEPARTMENT
[CARTOON]
"..... AND WE'RE ALL FOR IT (EXCEPT FOR THAT ENGINEERING STUDENT)"
LETTERS TO THE EDITOR
YOUR FAMILY'S HEALTH
SCHIZOPHRENIA IN CHILDREN...
HINTS FOR LANDOWNERS
[PHOTO]
BELL RINGER CASSEROLE
NATURE'S SCRAPBOOK
FIR GIANTS
HOMES FOR WILDLIFE
PRINCESS ANNE IS CALF-SHY
[PHOTO]
"THINGS ARE NOT AS THEY SEEM"
REVEREND H. S. CLUGSTON, UNITED CHURCH, SQUAMISH
HIGH SCHOOL WINS OVER SQUAMISH JETS
KEN FARROW FOURTH IN NATIONAL CONTEST
FASHIONS
CHOIR TO BROADCAST
PTA HOLDS ANNUAL CHRISTMAS PARTY
CAROLS OVER VILLAGE
JIM SMITH BECOMES PRESIDENT OF BOARD TRADE
BUYS FIRST CHRISTMAS SEALS
[PHOTO]
LET'S EAT
BY IDA BAILEY ALLEN
GARDEN-GRAPH
BY DEAN HALLIDAY
[DRAWING]
[PHOTO]
J. FRANK WILLIS
DATES TO REMEMBER
JACK'S BEANSTALK WAS SUNFLOWER?
[PHOTO]
STAWAMUS VALLEY RECOMMENDED FOR URBAN DEVELOPMENT
[PHOTO]
GORDON KIRK, 16
HENRY BINNING DIES
NOTICES
SERVICE!
DEER MOOSE OUT; BLACK BRANT IN
[PHOTO]
NEW EXECUTIVE
THE OLD SWEAT
BY DOUG SMITH
HUNTER BAGS WHITE DEER
[PHOTO]
[PHOTO]
CHEESE TOMATO RING
JELLIED ASPIC
SANDWICH LOAF
RECENT PUBLISHERS' RELEASES
[PHOTO]
OUR TOWN
BY JACK SCOTT
KNOCK THE ROCK
CLASSIFIED ADS
WANTED TO BUY
FOR SALE
FOR RENT
WANTED TO RENT
SITUATION WANTED
PERSONAL
[PHOTO]
A NEW SEMI-PORTABLE
SCOOPING AROUND HIGH SCHOOL
BY ELLEN FARQUHARSON
PERSONALS
[PHOTO]
GORDON SINCLAIR
SCOTT'S SCRAP BOOK
BY R. J. SCOTT
[CARTOON]
CORRECTION
CHURCH NOTICES
Relation (isLocatedAt)
Digital object metadata
Filename
19571219_Squamish_Times.pdf
Uploaded
December 29, 2011 11:33 AM
Digital object (Master) rights area
Digital object (Reference) rights area
Digital object (Thumbnail) rights area