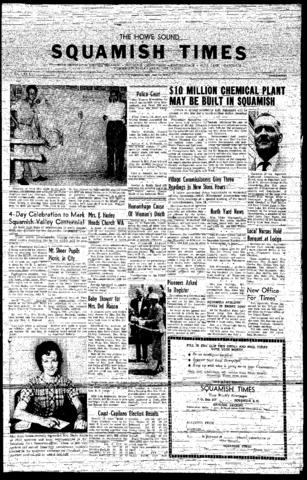 Elements area
Title
Squamish Times: June 26, 1957
Description
[PHOTO]
4-DAY CELEBRATION TO MARK SQUAMISH VALLEY CENTENNIAL
MT SHEER PUPILS PICNIC IN CITY
MRS E. HARLEY HEADS CHURCH WA
BABY SHOWER FOR MRS DEL MASON
[PHOTO]
Mrs. June Eaton
COAST-CAPILANO
POLICE COURT
$10 MILLION CHEMICAL PLANT MAY BE BUILT IN SQUAMISH
HEMORRHAGE CAUSE OF WOMAN'S DEATH
VILLAGE COMMISSIONERS GIVE THREE READINGS TO NEW STORE HOURS
NORTH YARD NEWS
[PHOTO]
Chairman of the Squamish Centennial Commission, Ray Street,
LOCAL NURSES HOLD BANQUET AT LODGE
[PHOTO]
PIONEERS ASKED TO REGISTER
SQUAMISH ATHLETE STARS IN BROAD JUMP
NEW OFFICE FOR 'TIMES'
COAST-CAPILANO ELECTION RESULTS
ANOTHER LONG LITTERED WEEKEND
THE SHUT-INS HAVE A DAY
BEASTLY NEWS
SAFETY DRIVING ON BICYCLES
[CARTOON]
"WONDER WHY THEY CALL HIM HOMO SAPIENS?"
LETTER TO THE EDITOR
POLLING DAY AT BRACKENDALE
BY ERIC AXEN
CONTEMPORARY OPINION
BUSINESS LICENSING
ON THE LIGHTER SIDE
ON THE LIGHTER SIDE
ULTIMATE END
DEATH - A PATHWAY HOME!
CROSSWORD
BY A. C. GORDON
[CROSSWORD PUZZLE]
REWARD FOR A HEROIC RESCUE
[PHOTO]
PEMBERTON NEWS
CHORAL GROUP SING AT WIENER ROAST
SCOTT'S SCRAP BOOK
BY R. J. SCOTT
[CARTOON]
[PHOTO]
Tony Seale, West Vancouver youth
[CARTOON]
HAPPY WEST VANCOUVER
CHURCH NOTICES
[CARTOON]
[PHOTO]
JOYCE HAHN
DESTRUCTION OF HOME AVERTED BY SQUAMISH FIRE DEPARTMENT
THREE MONTHS FOR SUPPLYING LIQUOR
SOCIAL NOTES
OUT ON A LIMB
BY STUMPY MCCULLOCH
SCOTT'S SCRAP BOOK
BY R. J. SCOTT
[CARTOON]
SOMEBODY NEEDS YOU
BIRTHS
PARKHURST GIRL MARRIES PGE
[PHOTO]
CBC TV'S "Country Hoe-down"
PRACTICAL LESSON IN CITIZENSHIP
BY ERIC AXEN
SIX INJURED IN TRAFFIC MIXHAP
[PHOTO]
CHOCOLATE FILLED RING
TEEN TOPICS
BY SANDRA GREER
SUNDAY SCHOOL AWARDS MADE
LEAVES FOR ENGLAND ON 8TH CROSSING
AN ASCENDED WAY OF LIFE
BY ANDREW LUM
LOCAL WOMAN WINS ART SCHOLARSHIP
HAVE SIX MONKEYS IN APARTMENT
[PHOTO]
TEACHERS LIKE WORKING IN SCHOOL DISTRICT
BOARD TO RENT TEACHERAGES HERE
[PHOTO]
Rollicking Billy O'Conner
BUSY WEEK AHEAD FOR DIAMOND HEAD
OUR TOWN
BY JACK SCOTT
COMING, GOING
[PHOTO]
MISS NATASHA LECKOEFF
BINGO GAMES BRING THE CROWDS AND MONEY FOR BUYING AMBULANCE
CLASSIFIED ADS
PERSONAL
WANTED TO RENT
FOR SALE
LOST
CORPORATION OF THE VILLAGE OF SQUAMISH
Relation (isLocatedAt)
Digital object metadata
Filename
19570626_Squamish_Times.pdf
Uploaded
December 28, 2011 11:14 AM
Digital object (Master) rights area
Digital object (Reference) rights area
Digital object (Thumbnail) rights area