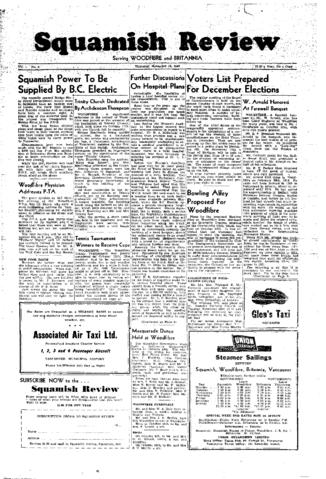 Elements area
Title
Squamish Review: Thursday, November 12, 1948
Contributor
Subject
Subject
Subject
Subject
Subject
Subject
Subject
Description
SQUAMISH POWER TO BE SUPPLIED BY B.C. ELECTRIC
The recently opened Bridge River Power Development means more to Squamish than an endless row of towers. For some time Hieme and Rumble vehicles and workmen have been a common sight. A great deal of the material used in the project was transported to Bridge River by the P.G.E.
With the local hydro electric plant and steam plant at the shops both taxed to their utmost, envious eyes have looked upon the miles of wires which were to carry power to Vancouver.
Arrangements have now been made with the B.C. Electric to run a 2208 volt line from the substation at Britannia; Hume and Rumble to begin construction on the line very shortly.
While the B.C. Electric will take over the task of supplying Squamish with light and power, the P.G.E. will retain their auxiliary steam plant at the shops.
WOODFIBRE PHYSICIAN ADDRESSES P-TA
The guest speaker at the October Meeting of the Woodfibre P.T.A. was Dr. Boyce, who gave a most interesting address on "Mental Health", discussing its significance in relation to the Home and the Child.
The P.T.A. now has thirty-nine members on its register, and it is hoped that those were at the meeting but are not yet members will join.
The next meeting will be on November 9th at 8 p.m. This will be "Fathers' Night," and all fathers are cordially invited to be present. The Guest Speaker will be Mr R. Joes, whowill talk on the work of the Wolf Cubs and the Boy Scouts.
NEW POOL ROOM
Between the barber shop and the telegraph office a new building is under construction. When completed Mr. Mitchell will move his barber shop and pool tables into the new edifice. The new building is owned by Mr. J. Jacobsen and the work of construction is in charge of Mr F.B. Scott.
Just across the street the new taxi stand is rapidly nearing completion and will soon be open for business
TRINITY CHURCH DEDICATED BY ARCHDEACON THOMPSON
Woodfibre - A significant milestone in the history of Woodfibre was passed on the occasion of the Dedication of Trinity Church which took place on October 17th with the Church full to capacity.
Bishop Heathcote being unable to attend, due to a fractured ankle, the service was conducted by teh Venerable J. Thompson, Archdeacon of Vancouver, assisted by the Reverend Gibbs of this Parish. Archdeacon Thompson preached an impressive sermon on the significance of the name "Trinity" Church.
Mrs Eckersley sang the Anthem "Bless this House", and Mrs MacGregor officiated at the Organ.
Among those present were the Reverend Addyman of Squamish and Mr C. Bentall, President of the Dominion Construction Company whose generosity contributed so much to the building of the Church.
All those concerned in the design and construction of Trinity Church are to be sincrely congratulated on their achievement. It looked beautiful, the finishing touch being the flowers on the Altar, which were donated by Mr and Mrs P. Eckersley and Mr and Mrs Tommy Lee.
After the service, a short social was held in the basement and refreshments were served, thus bringing to a close a very happy occasion.
TENNIS TOURNAMENT WINNERS TO RECEIVE CUPS
Woodfibre - the Woodfibre Tennis Tournament was finally completed on October 13th. The matches had to be spread over several weeks due to bad weather conditions, and for a while it looked as if the 1948 Tournament might be played off in 1949. However, it is very satisfactory to be able to report that, by taking advantage of every possible opportunity, the games were eventually completed without a single match being "scratched". The Tournament Committee very much appreciated the interest shown by the (Continued on Page 2.)
FURTHER DISCUSSIONS ON HOSPITAL PLANS
Periodically the feasibility of having a local hospital comes under consideration. This is one of those times.
Some four or five years ago the project was discussed. At that time our population was much smaller, and it was felt that the community could not support such an undertaking.
Last Spring the Women's Auxiliary to the Legion entered into some correspondence in regard to a hospital. Dr. H.A. McDonald was retiring from practice and a new doctor seemed to be unattainable. Any community attempting to obtain a medical practitioner is almost certain to be disapointed unless there is a local hospital. Squamish was very fortunate in securing the services of Dr. L.C. Kindree.
Before the Women's Auxiliary had gone very far in their plans, the Board of Trade called an open meeting last June to discuss the question of a local hospital. Two members of the Workmen's Compensation Board, Messrs. Thompand Williams had asked that this meeting be called. They gave the audience to understand that the W.C.B. would like very much to see a hospital here, as no such facilities were available between Shalalth, where the B.C. Electric operates a private emergency hospital, and Vancouver. Should Squamish fall to supply such a service here, the Workmen's Compensation Board planned to build a first aid station here from frunds collected from industries along the P.G.E. On the other hand, such a sum would be contributed towards the building of a local hospital, should the community decide to go ahead with the project. Summer came with a recess for all organizations and nothing further was done.
Recently the Workmen's Compensation Board asked for an answer. Sponsored by the Auxiliary a meeting of executives of local organizations was held in the dining room of the P.G.E. Hall on October 9th, in order to obtain various opinions on the matter. Mr. J. Castle was elected chairman of the gathering.
Mrs. R.R. McCormack reported on the result of inquiries made into various hospital plans. These ranged from a medical centre with three beds and open only during the day, to a $50,000 building, fully staffed and costing $2,000 a month to operate. Dr. L.C. Kindree gave as his opinion that a medical centre was little better than the present set-up while the other extreme was beyond the medical needs of Squamish as well as being beyond its financial ability to support.
(Continued on Page 5)
MASQUERADE DANCE HELD AT WOODFIBRE
The Woodfibre Community Club held a Halloween Masquerade Dance on October 30th. The winners of the prizes for costumes were: Best Fancy Dress: Mr. and Mrs C. Harding (18th Century Costumes). Most Original Costumes: Miss W. Bundy and Mr P.
McSorley (Indians). Best Comlc Costumes: Mr V. Brait and L. Petovello (lady and gentleman respectively).
Prizes for Spot Dances were won by Mrs. V. Brait and Mr. J. Masson; Miss W. Bundy and Mr P. McSorley; Miss D. Bowden and partner; Mr and Mrs R. Pelletier; Miss B. Smith and Mr H. Porter; Mrs Moretto and Mr H. McBean.
WOODFIBRE PERSONALS
Mr and Mrs. W. A. Dale have returned from a week's holiday in Seattle and Victoria.
Mr and Mrs J. A. Smiley have left Woodfibre to live in Vancouver.
Born on October 24th, to Mr. and Mrs. F. Lussin, a son.
BIRTHS
On October 6th, to Mr and Mrs C.G. Killam, twins, a son and daughter.
On October 14th, to Mr and Mrs E.V. Morris, a son.
VOTERS LIST PREPARED FOR DECEMBER ELECTIONS
The regular meeting of the Board of Commissioners is held on the second Tuesday of each month, but the board have found it necessary to meet more often to enact necessary business. A number of bylaws concerning sanitation, building and trade licenses have been drawn up.
One of the chief duties of the temporarily appointed commissioners is the preparation of a voter's list for the election of three commissioners on the third Thursday in December. They are now drawing up this list which must be posted in a public place by November 5th. On November 15th a Court of Revision will be held in the Parish Hall from 10 to 12 a.m. for the purpose of correcting errors or omissions on the voters' list. The name of ever ratepayer in the incorporated village should be on the list.
If your current property taxes are paid up, your name should be there. Be sure to check and protect your right to vote.
BOWLING ALLEY PROPOSED FOR WOODFIBRE
Plans for the proposed Bowling Alley at Woodfibre were discussed at the Quarterly General Meeting of the Community Club, which was held on October 26th. It was reported that the Company ahd agreed to erect the building, the cost of equipping it being the responsibility of the Community Club. The Management Committee are at present investigating the cost of this equipment, and will later call an extra-ordinary General Meeting to make their recommendations in connection with raising the additional funds required. In the meantime, the Committee has authority to proceed with the ordering of the equipment.
ENGAGEMENT OF WELL-KNOWN COUPLE
Mr and Mrs Reginald R. McCormack announce the engagement of their elder daughter Patricia Frances to Mr Raymond Keith Rebagliati, son of Mr and Mrs Peter Rebagliati of Lillooet.
The wedding will take place in St. Joseph's Catholic Church on Tuesday, November 23rd at 11 a.m. Follwing the ceremony an open reception will be held at the Parish Hall.
For her bridal attendants Miss McCormack has chosen Miss Viola Halvorson and Miss Teresa Martin.
W. ARNOLD HONORED AT FAREWELL BANQUET
Woodfibre - A farewell banquet for Mr W. Arnold, who has been Chief Engineer at Woodfibre for many years, was held in No. 1 Cookhouse on October 20th, with fifty-two guests present.
Mr E.P. Brennan welcomed Mr Arnold to the banquet, and expressed the best wishes of all present for hsi future. He presented Mr Arnold with a "Lazy-Boy" Chair from the Old Timers of Woodfibre.
Mr Collicutt spoke for the Boiler House Staff, and presented a mantel radio to Mr Arnold on behalf of his colleagues.
Mr P.V. Parker then proposed a toast to the guest of honour, which was duly honoured.
Mr Arnold first came to Woodfibre on February 29th, 1916. He came out from Ireland in 1905 to homestead in Alberta, where he remained until 1912. He had served his apprenticeship in Belfast with Fairbairn Lawson Coombe Barber & Coombe, and before he left Ireland he had already had many experiences in connection with his work. He turned up the first automatic hackling machine (the purpose of which is the automatic combing of flax) ever to be made, and fitted the original automatic knotter, the design of which was worked out to tie a bow knot on linen thread skeins, and was embodied in the International Harvester Binder.
Since 1916 Mr Arnold has worked almost continuously at Woodfibre; he was in Vancouver on munitions for three years from 1917-1920 and was at Port Alice as Shift Engineer for some months in 1921, but apart from these breaks has remained here until his retirement this month, becoming Chief Engineer in 1921.
The following is all that it is necessary to say concerning his work here. Up to the time when (Continued on page 5)
THE SQUAMISH REVIEW
An independent newspaper published on the second Wednesday of each month at Squamish, British Columbia, serving the Squamish Valley, Woodfibre and Britannia Beach.
F.R. Bingham, Publisher.
Office of The Review is located in the Yarwood Drug Store, Squamish, B.C.
PERSONALS
Mr R.M. Sweeney, who taught here last year, spent a few days at the home of Mr and Mrs B. Valde.
Mr. Frederickson, school inspector, paid a visit to the school.
Due to the illness of her father, Miss Pat Robinson has returned to her home at Red Willow, Alberta.
Mr. and Mrs. E. Reeve of Mission City were the guests of their son and daughter-in-law, Mr. and Mrs. Owen Reeve over Thanksgiving.
Mr. and Mrs. King of Vancouver Island were the guests of Mr. and Mrs. H. Stathers.
Mr. and Mrs. M. Johnson and their small daughter visited Mr. and Mrs. M. Hurren.
Mr. R. R. Howay, provincial assessor spent a couple of days here on business.
A dinner for two at the Squamish Cafe was the prize offered for the best baking powder biscuits entered in the Fall Fair. Mrs. D.P. Morrison, who won the contest
cashed in her award on October 7. Both Mr. md. Mrs. Morrison have the highest praise for the wonderful chicken dinner with all the trimmings, and lots of them, served
to them by Mr. Cameron.
The Women's Auxiliary to St. John's Anglican Church is planning to hold its Annual Bazaar on Wednesday afternoon, November 17th. Those familiar with the work offered for sale at this affair, are looking forward to doing their. Christmas shopping there.
The shooting of a three year old grizzly was just a part of the day's work to Roy Binning. The bear was soon on the Upper Squamish Road one morning by Clarence Tatlow and at noon it showed itself to Bob Lasser. While carrying on his work of hauling logs, Roy Binning decided to carry his rifle. Sure enough, the now confident bear came into view at Chicken Soup Creek, just in time to be shot by the prepared truck driver.
Ted Chadwick, a former Squamish spent a week-end with his uncle and aunt, Mr and Mrs Owen Reeve before sailing for Hawaii as electrician's maite, first class, to take part in R.C.N. manoevres.
It was a pleasure to see Noel Mulhern home again for a brief holiday.
Maureen Rennie entertained a group fo young friends last Thursday, the reason for the gathering being her fifth birthday.
Mrs Cowdell and her young daughters invited a large number of children to a huge bonfire on Hallowe'en.
Mrs Knox and her three children Margaret, Terry and Michael have returned from Ireland where they have spent the last year.
Born to Mr and Mrs Dave Magee on Tuesday, October 26, a son.
Kenneth Robinson spent a few days here on business.
Elsie Nygard was hostess to a large circle of girl friends on the occasion of her 13th birthday.
Mrs. D. D. Morrison accompanied Mrs. Patrick on a holiday to Chemainus.
Dora Gross is enjoying a lengthy holiday visiting California and various points in the Middle States.
Mrs. A. McRae, Sr. spent a pleasant holiday at Williams Lake visiting Mrs. A. McLennan.
Remember Art Thompson? He has left the police force and is now living at Port Alberni.
Master James Antosh celebrated his eighth birthday by entertaining a few of his chums at a birthday supper on Saturday, October 30,1948.
Seated at a table gaily decorated with witches, goblins, pumpkin cutouts, and black cats were the following. Terry Aldridge, Karel Aalten, Leonard Marchant, Allan Watson, Gray Mitchell, Boyce Crappelle, and the Host.
After supper the boys dispersed for "Tricks or Treats"'and the picture show.
BRACKENDALE NEWS
The Women's Institute met at the home of Mrs. Earl Judd on Monday evening, and a call was made for used toys that can be repaired for Christmas... Barry Barrow was home for the weekend from school. . . . . Miss Edith Olsen had a Hallowe'en supper party on Sunday evenine October 31st, for her young friends. Sixteen young people attended in fancy costumes. After games, they went visiting the neighbors for "treats".... Mr and Mrs Geo. Hoggin and their daughter spent several days in Vancouver. Mr & Mrs R. Farquharson are staying at the Judd farm while the owners are away... Mr Webster has his nephew from Vancouver here for a few days... Mr and Mrs Don Rae have moved into their new home... Mrs C. Schoonover went to Vancouver for a week with her daughter, Mrs Bruce Wright.
ELKS CHOOSE NEW RULER
At a recent meeting of the Squamish B.P.O.E. Lodge., Mr. William Oedge was chosen for the post of exalted ruler.
On Friday, October 8th, a social evening was held in the Parish Hall, all local Elks and their wives being invited. Games of Bingo and dancing provided an enjoyable evening for all. The ladies especially enjoyed the refreshments served by the men.
Born to Mr and Mrs R.H. Paul on October 6th, a son Robert Roy.
TENNIS TOURNAMENT
(Continued from Page One)
playsers in the last few matches who played their games in weather which felt more suitable for skiing and often in the dusk.
The finals of the various events were as follows:
Men's Singles - V. Bidin deafeated W. Whalen (6-4 6-4)
Ladies Singles - Mrs Marlatt defeated Mrs Becket (9-7 5-7 6-4)
Men's Doubles - V. Bidin and W. Wickman defeated E. Hartling and A. Lemieux (6-4 6-4)
Ladies' Doubles - Mrs Boyce and Mrs Marlat defeated Mrs Becket and Miss Lilwall (6-2 6-4)
Mixed Doubles - F. Symington and Mrs Boyce defeated W. Wickman and Miss Watt (6-2 4-6 7-5).
Throughout the Tournament commencing in the preliminary rounds, there were many excellent matches, from the point of view of both the players and the spectators. One deserving special mention was the semi-final in the Men's Singles between V. Bidin and
F. Symington, which was won by V. Bidin with a score of 4-6 7-5 7-5. It was unfortunate that this match had to be played off on a weekday afternoon, as it deserved a larger "gallery" than was possible in the circumstances. So close was the play that F. Symington, who eventually lost the match was at one stage for three points within "match point" of winning.
Of the other many closely-contested matches which took place during the Tournament, two that remain in my mind are the finals of the Ladies' Singles and the
match in the early stages between A. Wood and E. Hartling.
The interest shown in this tournament was very gratifying to the organizers, and it is intended that the presentation of the cups to the winners will be arranged at an
early date. It is hoped that this Tournament will become an annual event, and it is especially hoped that more of our lady players "come out of hiding" for the Tournament in 1949!
NOTES
Mr. J.R. Morrison is the proud owner of a 1949 Monarch Nash car, definitely the last word in cars around here.
With the boys basketball team all set to play it's first game on Thursday, George Johnson is sporting a broken finger. The injury was caused by a truck door being closed suddenly upon his hand.
Mr. James Ramsay has a stock of used furniture, in excellent condition for sale. Anyone interested in beds, drop-leaf tables or coffee tables, look him up.
At the first basketball game of the season last Thursday the Legion won narrowly over the Pro-Rec, while the School girls soundly beat the City girls.
WOMEN'S INSTITUTE HOPES TO BECOME ACTIVE AGAIN
The Squamish Women's Institute held a meeting last month, but due to unforseen circumstances were unable to hold their election of officers. In the near future, this organization hopes to have Mrs Gummow, superintendent of Women's Institute of B.C. up here as their guest speaker. Watch for the W.I.'s next meeting.
WE'RE LOADED TO THE ROOF FOR CHRISTMAS
WITH GIFTS OF ALL KINDS FOR BOYS AND GIRLS - MEN AND WOMEN
Christmas is just a few short weeks away, and if you haven't already started your gift planning and buying, you had better get busy.
Be an early bird - MacKenzie's have loads and loads of fine gifts on their shelves - the widest variety we've had for many years. The early shopper has the choice of all these fine gifts. You'll be happy that you avoided the last minute rush, too!
IF YOU PREFER, YOU CAN USE OUR LAY-AWAY PLAN AS IN PAST YEARS
MACKENZIES LTD DEPARTMENT STORE
FOR CHRSTIMAS
For her.. Toilet sets, Yardly, Max Factor and Coty
Make-up Kits
Perfumes, Toilet Waters
Books - Wrist Watches
Brush, Comb and Mirror Sets
Elgin American Compacts
Bedside and Kitchen Radios
Shaeffer Pen & Pencil Sets
Musical Powder Boxes
Ladies' Billfolds
Cameo Vellum Stationery
For him.. Cargo Men's Toiletry Sets
Ronson Lighters
Billfolds and Wallets
Cigarette Cases
Electric Razors
Pipes, Tobaccos
Cigars, Cigarettes
Tobacco Pouches
Cameras, Record Albums
Leather Dressing Cases
Shaeffer Pen & Pencil Sets
Books - Latest Sellers
For the family..
Christmas Greeting Cards
Electric Heating Pads
Electric Irons & Toasters
Small Radios for Kitchen and Den
Combination Radios with Record Players
Tree & Home Decorations
Barometers
Alarm & Kitchen Clocks
BABY GIFTS - TOYS - SPOONS AND MUGS
BABY TOILETRIES
OUR PRESCRIPTION DEPARTMENT
Double Dependability: When a Prescription is filled here you are assured of double dependability - dependable despensing and dependable quality ingredients.
The first is assured by our professional skill and our desire to give prescriptions the painstaking care your health deserves - Quality is guaranteed because we use only the preparations of reputable manufactuerers known for dependability of their products.
YARWOOD DRUGS LIMITED, SQUAMISH
GIANT MAN-MADE WATERFALL
will be created by water from mountain tunnel dropping 1200 feet to power house below through huge pipe line shown in this recent construction picture at the B.C.
Electric's Bridge River power development 130 miles north of Vancouver. In a race against time, engineers have won out against great obstacles and the first 62,000
h.p. unit in the big development Vancouver and Lower Mainland program will be delivering power to later this month, nine months ahead of schedule. The penstock
line alone weighs 3,000,000 pounds, is being installed against a difficult 41 degree slope on Mission Mountain. Large dams at the other side of the mountain will assure Bridge River water being fed to the top-end of the penstock by way of a two-mile tunnel through the mountain.
QUIET LOCAL WEDDING
On Thursday morning, October 28, in St. John's Anglican Church, Dorothy Jeffrey exchanged vows with Harold Lipsey before Reverend C. H. Gibbs.
Given in marriage by Mr. A. Cooper, the bride wore a full skirted gown of white satin with long sleeves coming to points over the wrists. Her full length veil of fine white fell from a halo of pleated net. Her bouquet was up of calla lilies and white chrysanthemums.
Mrs J. Mobes of Vernon was the sole attendant. Her gown of figured pink taffeta featured a peplum which draped itself into a bustle at the back. Matching flowers formed a coronet for her hair. Pink and white roses made up her bouquet.
The groom was supported by his brother Emest Lipsey.
Following the ceremony a reception for relatives and immediate friends was held at the home of Mr. and Mrs. Irwin Thorne. The toast to the bride was proposed by
Mr. Stringer.
Following the reception Mr. and Mrs. Lipsey left on an island honeymoon. For travelling the bride donned a powder blue suit with tan topcoat and navy accessories.
The part of Canada that leads in fur production is not one of the less-densely populated provinces but Ontario, which has the greatest total population.
SCHOLARSHIP FOR SQUAMISH
Many times a worthy Grade XII student is unable to carry on scholastic work because of a lack of finances. The P.T.A. has hopes of partially overcoming this handicap by a scholarship.
This award of $150 will be presented to a Grade XI1 student. A committee willetraw up the conditions of the award but it is expected to be given to the best all around student. As in the Rhodes scholarship, scholastic work will be the most important but other factors, such as year round work, sports and leadership qualities will all be taken into consideration.
The P.T.A. is merely sponsoring this plan. They hope to make an appeal to orgnizations and interested individuals for contribution towards this fund. Should they
fall short of their objective, they will raise the balance themelves. Needless to say the boy or girl winning the award must use it for further studies at the Unviersity, in nursing, towards teaching or at any academic institution.
In supporting this move, you may be furthering the ambitions of your own child.
FIRE DESTROYS BUNKHOUSE
At 8:30 last Tuesday evening, the fire siren blew again. However, Tommy Fowler knew just how to push the button properly. Soon the streets were filled as scores of
people headed for the lower town. A building owned by Ernie Naul of Kodiak Logging Co. and used as a bunkhbuse was gutted by the blaze. According to R. Rutledge and C. Jensen, the fire started in the upper story and was well started before they realized their danger. Unable to save any of their personal belongings the men escaped from the burning building.
Within three minutes of the alarm the volunteer fire brigade under H. A. Munro was at the scene of the blaze. However, the fire had such a hold on the building, that only a charred shell remained.
Adjoining buildings were a major concern of the fire department.
Incidentally, the fire alarm disrupted the Senior Badminton Club and "wrecked" the Pro-Rec meeting.
RURAL HOUSING BULLETINS
The Rural Housing Advisory Committee for British Columbia was formed in 1947 in order to give rural travellers all possible assistance in the field of farm homes and buildings.
A simple survey was conducted with the aid of the agricultural representatives in the various communities to supply some indication of the greatest building problems confronting the homebuilder and remodeller.
After careful consideration of the survey results, it was decided to publish a series of informative bulletins, all dealing with the various aspects of the rural home. Each bulletin was to be confined to one specific problem and was to be amply illustrated with diagrans and sketches.
FARM HOME REPAIRS
The first of these, No. 101, "Repairs To The Farm Home", was published in the Spring of 1948. Every phase of building repair is discussed in detail, and the many illustrations and diagrams are simple and to the point. The context includes such topics as new supports under a house, waterproofing the basement, repairing cracks in plaster and tears in wallpaper, and straightening and supporting a sagging roof.
This bulletin has been well received in both Canada and the United States. Copies may be acquired from the district agricultural representative, or by writing to the secretary of the Rural Housing Advisory Committee at the University of British Columbia. Publications are free to all rural groups and individuals.
OTHER BULLETINS COMING
The committee is about to publish another bulletin on kitchen planning and layout. It is intended to help the home owner in building or remodelling the kitchen for best results and conforming with requirements and budget. Illustrations and photographs and various diagrams are given.
Following the kitchen bulletin will be one on the utility room. This room is becoming more and more important in the life of any family, particularly a rural one. The bulletin suggests various ideas and layouts for consideration. It will be available in the near
future.
Also on the agenda of the Rural Housing Committee are bulletins an farmstead layout, rural water supply and sewage disposal, paintng, etc.
ELECTRICITY EXTENSION
Three extensions of electrlcity service were granted in Delta municipality during 1947 by the Public Utilities Commission, the latter's annual report shows. These come under
the heading of "domestic and farm" users. Number of customers to be served is 27, and the estimated cost of the extensions was $5850.
Under governmental supervision, and in defiance of former parent arranged marriages, Japan held a marriage fair, -'where domesticminded single folk went in search of desirable mates.
MORE APPENDICITIS
No sooner had Betty Dent, last month's apprendicitis case, returned hom than Danny Seymour, 10 year old son of Mr and Mrs W.V. Seymour suffered a similar attack. One midnight, he was rushed to Horseshoe Bay by speedboat and from there to St. Paul's Hospital by ambulance.
Danny is home again, making an excellent recovery. Oddly enough, the day he came home, word was received from his sister Nanette Seymour, a nurse at Dawson Creek that she, too, had undergone an appendectomy.
One of Newfoundland's two pulp and paper companies cut 500,000 cords of wood in the past twelve months, believed to be a record for any single mill company in the world.
UNITED CHURCH BAZAAR TO BE HELD DECEMBER 4
The Ladies Aid of the Squamish United Church held their regular monthly meetings at the home of Mrs Harry Nichol.
It was decided to hold the Annual Bazaar on Saturday, December 4th in the Parish Hall. In addition to the sale of sewing, there will be a home cooking booth and a white elephant table. For the children, there will be a bran tub; and for the hungry, afternoon tea. Remember the date, December 4th.
A few years ago Canada refused to buy when offered the whole of Labrador for $30,000,000. This summer mineral resources worth hundreds of millions of dollars are being proved up in that bleak territory.
The average Newfoundland inshore fisherman has an income of from $800 to $1000 a year.
THAT... MORNING AFTER FEELING
After breakfast and before dinner is sometimes invaded with definite pangs of hunger. For that between-meal snack nothing could be finer that a cup of coffee with one of our delicious sandwiches or a cut of our home-made pie.
WALTZ-INN CAFE
MRS D. MCCALLUM
WANTED -- HIGH GRADE FIR LOGS
TOP PRICES PLUS PREMIUMS
APPLY
J.M. FROST
WESTERN PLYWOOD CO., LTD., SQUAMISH
SQUAMISH TOWING AND CONTRACTING CO., LTD.
LOGGING AND GRAVELLING CONTRACTORS
SQUAMISH, BC
OLDEST BUILDING IN SQUAMISH NOW BEING DEMOLISHED
Old timers are assailed with a feeling of nostalgia as they watch the demolition of the building across the tracks from the Del-Mar Cafe.
This structure commonly known as the "old laundry" was erected in 1891 by William Mashiter who came here a year earlier to take charge of the Magee Ranch. For twelve years this was the only building in the district. At that time the
whole area now in the incorporated village was an immense hayfield. Scows which came here for hay, brought in lumber and building supplies for the erection of the combination store and waiting room. Used as a stopping place by people going to and from Brackendale, the building had a store and waiting room on- the main floor and eight room upstairs.
In 1903 David Galbraith bought out Mc Mashiter. The new owner then built a hotel at the present approach to the wharf. That building is, now the property of
Empire Mills.
The old building was rented to various individuals in different walks of life. At one time it was occupied by hog raisers; then a Montenegrin caqied on' a bootlegging
business until a just fear of the law caused him to depart hurriedly. For twelve years it was used as a Chinese laundry. Twice saved from destruction by the fire brigade it last rented by Ralph Caldwell, who planned to use it for a sheet metal shop.
Now the building is slowly being razed by Mr. Percy Lowe. All usable material is being moved to the lot formerly owned by Stan Johnson where Mr. Lowe hopes to create a Gospel Mission with the remains of the old structure.
ANNUAL SCHOOL MEETING
The annual school meeting for Squamish Scpool District Will be held at the school on Saturday, November 13 at 7:30 p.m.
As most parents realize, the school is suffering from growing pains and there are hopes that a remedy can be found. Attendance at these meetings has not always been good in the past, so ratepayers and their wives or husbands are urged to turn out. (You can always attend the second show)
There are six telegraph system operating in Canada; four in conjunction with the railways, one by the federal government, and one small independent.
TIME TO MAIL XMAS OVERSEAS PARCELS
Overseas parcels should be on their way no, local Postal officials warn, if delivery is desired before Christmas.
For delivery by Christmas mail addressed to the United Kingdom should be mailed before November 15th.
"A few further tips are offered by the Post Office; To ensure delivery in good condition, pack parcels carefully, use heavy wrapping paper, strong twine, address fully and clearly.
DOCK IMPROVEMENTS FOR HORSESHOE BAY
Plans for the improvement of the government dock at Horsehoe Bay have been passed and estimates secured on the cost of installation of electric light and running water facilities.
The plans and estimates have been forwarded to Ottawa for final approval and it is expected that these facilities will be available in the near future.
The government will make the installations, but boats using the service wll pay for the power and water consumed. Most of the traffic from the Horseshoe Bay Dock is handled by Howe Sound Lines and Sea Bus Lines.
SPORTS PROGRAM SET FOR WINTER SEASON
While the softball season came to an official close with a dance in the P.G.E. Hall on Friday, October 29th, basketball and badminton are now in full swing.
The Senior Badminton Group are playing every Tuesday evening immediately after the Juniors. On Wednesday, October 26th, seniors chose their officers. The following were elected; President - Mr. E. Aldridge, Vice President - Mr. D. De Beck, Secretary-Treasurer - Mr. K. Richardson, Playing Committee - Mr. E. Stothers, Mr. W. Manson, Refreshments Committee - Mrs D. De Beck, Mrs. R. Chapman, Mrs. Jim Hurren, Mrs. D. Kirkwood.
All groups are well represented and are looking forward to a busy season.
The Basketball Club has been re-organized, and a schedule for the coming season drawn up. As before, games will be played every Monday and Thursday, beginning November 4th. Every Monday the city girls and the high school girls will meet in a game at 8 p.m., the two high school boys teams taking the same
spot on Thursday. At 9 p.m. on 20th Mondays and Thursdays there will be a game between two of the three senior teams; Hardwoods, Legion and Pro-Rec.
Season's tickets to all the games will again be available for $4.00; a 20-game ticket for $2.50 and a 10-game ticket for $1.50. Admissions for individual games will be 25c for adults, 15c for Juniors. Get a season's ticket and root for your
Favorite team.
The executive of the Basketball Club is as- follaws: President - A. Hendrickson; Secretary-Treasurer - Mrs. L.C. Kindree.
PARTIES FOR BRIDE-ELECT
Miss Dorothy Jeffery was the guest of honor at a number of showers prior to her marriage to Mr. Harold Lipsey.
On the evening of Thursday October 21st Mrs. George Lipsey and Mrs. Harold entertained at the home of the former in honor of Miss Jeffery.
The following evening, the home of Mrs. Ingraham was the scene of another shower for the bride-elect. Co-hostesses with Mrs. Ingraham were Mrs. F. Van Horlick, Mrs. H. Dawson and Mrs. Q. Carson.
On Monday evening Mrs. Irwin Thorne and Mrs. A Cooper invited a number of friends to the former's home to honour Miss Jeffery.
OLD TIMERS HOSPITALIZED
Three weeks ago, James Neil, an old timer from the shop district was rushed to Vancouver by plane.
Last week Peter Reambeault was sent to Vancouver as the result of a heart attack.
It is difficult to picture either of these active gentlemen in a hospital. Their many friends hope tosee them both back soon.
WATCH REPAIR SHOP TO OPEN
The services of a qualified watchmaker will soon be available to the residents of Squamish and vicinity.
Mr Douglas Fenton, known to many as the husband of the former Ruth Carson, is moving to Squamish with his family. In the inner office of the Imperial Oil Service Station, he will open a repair shop for clocks and watches.
This should fill a decided need in the community as it is his aim to give speedy as well as good service.
Large iron-ore deposits wait development in Northern Quebec.
SCHOOL SOCIAL LIFE ENJOYED BY STUDENTS
A small party held at the school for Grades 7 and 8 and supervised by Mr. Patterson and Mr. Hayes, proved such a success that a High School Mixer was held on Friday, October 22.
Under the patronage of the teachers, the youngsters from Grades 7-12 had a riotous evening of fun, games, singing and dancing, which proved most popular with everyone. Abundant eats rounded out the enjoyable party. All those partaking are looking forward to another party before too long.
WATCH AND CLOCK REPAIRS
FAST ON-THE-SPOT SERVICE
BY DOUGLAS FENTON
LOCATED IN IMPERIAL SERVICE OFFICE
JAMES RAMSAY
GENERAL DEALER
BEDS, COFFEE TABLES, KITCHEN UTENSILS, DROP LEAF TABLES
WE BUY AND SELL EVERYTHING
SQUAMISH, BC
YOU CAN'T CHANGE THE SEASONS BUT YOU CAN PREPARE FOR THEM
HAVE YOUR CAR MADE READY FOR WINTER WEATHER NOW!
TALK IT OVER WITH IAN HAMILTON
HAMILTON'S SHELL SERVICE
GIVE DAD A NEW TIRE OR BATTERY FOR CHRISTMAS
FAREWELL FOR WILLIAM H. TOBEY
On the evening of Saturday October 9, a large crowd of P.G.E. employees and their friends gathered at the P.G.E. Hall to honour Mr. W. H. Tobey upon his retirement as general manager of the Pacific Great Eastern Railway. The occasion also served as a wholehearted welcome to his successor, Mr. J. A. Kennedy.
Excellent dance music was provided by an orchestra made up of Mrs. L. Gorsuch on the violin. Ian Hamilton on the saxophone, Jerry Lilge on the guitar, Bert Somerskill on the accordion and Miss Kay Bowyer of Vancouver at the piano, with Mr. Bill Burd doing the vocalising.
During the evening, Mr. W. A. Stewart, superintendent of the P.G.E., called upon Mr. T. Clarke. On behalf of the P.G.E. Employees Association, Mr. Clark as president, presented Mr. Tobey with a beautiful leather wallet plus a check made up of donations from employees of the railway all along the line.
In thanking all his fellow workers, Mr. Tobey expressed his deep appreciation of the close co-operation accorded him by each and every employee.
Unable to realize all his hopes because of lack of funds, war, material shortages and labor troubles, he stressed the fact that the P.G.E. had come a long way in the past eight years. Long a political foot ball, and unable to pay its own operating cost, it is now a vital transportation link which can no longer be overlooked. In closing he extended best wishes for a successful future to the new superintendent, Mr. W. A. Stewart and the new general manager, Mr. J. Kennedy.
Mr. Stewart then introduced Mr. Kennedy to the assembled guests. The new general manager warned his predecessor against too deep a retirement as he felt sure that he would often call upon Mr. Tobey for information and assistance. He asked that every employee on the railroad co-operate with him to the best of his ability in order that Mr. Tobey's ambitious programme might be carried out. Mr. Kennedy emphasized the importance of the too-often-overlooked section men, who are responsible for the maintenance of the track. "Any railroad," said Mr. Kennedy "is only as good as its roadbed."
Following is a hearty round of applause, Mr. Burd sang two selections, "The Rose of Tralee" and "The Old Refrain," accompanied by Mrs. Gorsuch and Miss Bowyer. To satisfy the crowd, he obliged them with an encore.
Refreshments were served in the dining room where the tables had been arranged in the shape of a U. At the head sat Mr. W. Tobey, Mr. and Mrs. J. Kennedy and Mr. and Mrs. W. Stewart. Brightly colored autumn flowers gave the tables a festive air.
Arrangements for the supper were in the hands of a group of ladies whose husbands are railway employees. Among them were Mrs. J. Gibson, Mrs. Todd, Mrs. I. Nichol, Mrs. Lutes, Mrs. A. Moon, Mrs. W. Stewart and Mrs. J. Leach.
A large number of out-of-town employees attended the dance; former superintendent; Mr. and among them being Mr. J. A. Quick, Mrs. A. Anthony, Mr. and Mrs. S. Malm, Mr. and Mrs. Heiliger, Mr. and Mrs. McNeill, Mr. S. Good, Mrs. W. A. Halliday and Mr. Vaughn Paul.
NEW READY-TO-WEAR SHOP
Changes have taken place at the Del-Mar Cafe. The front half of the dining-room section of the restaurant, has been remodelled and partitioned off as a separate establishment.
In this space, Mr. Havey Hurren has stocked up with a complete line of men's wear. He also plans to carry a complete line of ladies ready-to-wear. The first shipment of ladies wear is expected to be here by November 15. These articles of wearing apparel are the product of a well-known Montreal manufacturer.
In addition to ready-to-wear, Mr. Hurren is the local agent for The House of Stone. Through him you may obtain a ladies or man's fitted, made-to-measure suit; as well as made-to-order topcoats for ladies; all made by this well-known firm.
LOST
In Squamish vicinity, oval sterling silver locket, initials "E. C." engraved on back. Please return to Mrs. D. Roe, Brackendale. Reward.
COMMUNITY CLUB HOLDS SECOND WHIST DRIVE
The Woodfibre Community Club held the second of a series of four Whist Drives on October 20th, with twenty tables playing.
The winners were as follows:
Ladies' First Prize - Mrs. Hutton (149)
Men's First Prize - C. Malm (150)
Ladies' Second Prize - Mrs. Monoghan and Mrs. Chadwick (148)
Men's Second Prize - O. Peace (149)
Ladies' Booby Prize - Mrs. Williams (103)
Men's Booby Prize - Mr. B. Hebert (94)
While refreshments were being served, a game of "Truth and Consquences" was played. Cards were cut to decide on the victims with the following results:
Mrs Chadwick, Mrs Inglis, C. Woolway and R. Costanza, being unable to state the date of the Battle of Hastings, had to pick up marbles with their toes; Mrs Inglis proved most proficient at this and won the prize.
Mrs Plecas and Mrs Rae failed to name the colours of the rainbow and were instructed to break balloons with rolling pins. Mrs Rae won.
E. Chadwick, A. Moretto, R. Rossignol and M. Gibilov had to wash the dishes, as they did not know the date of Confederation.
Mr W. N. Parkin was asked to give the meaning of the initials S.S. and M.A.T. As he could not answer he was taken by truck to fetch Mr W. Arnold, who was being entertained at a farewell party elsewhere. On Mr Arnold's arrival, "For He's a Jolly Good Fellow" was sung in his honour.
V. Bidin and Mrs Lea could not compute how many miles per hour is the equivalent of 88 ft. per minute, so they did some competitive floor sweeping, at which V. Bidin came out top.
Mrs Eckersley, J. Lebrun and L. Levers failed on a nursery rhume quiz, and had to guess the contents of each others' pockets, Mrs Eckersley proving the best guesser.
The general question "What are the two signatures on a one dollar bill," did not get an answer. Presumably nobody present had ever kept one long enough to have the opportunity to find out.
There will be two more of these Drives before the end of the year when further fun and games will be enjoyed - and don't forget the grand Aggregate Prize at the end of the series.
BOARD OF TRADE FAVORS SALE OF P.G.E.
The regular monthly meeting of the Squamish and Howe Sound District Board of Trade was held Wednesday, November 3, 1948, in the dining-room of the P.G.E. Hall with twenty-six members present.
There was some discussion on endeavoring to have the harbor made more sightly by having old pilings and other debris removed; and thus beautifying the approach to the Squamish docks.
The seriousness of the recent epidemic of false fire alarms was raised, and it was the general feeling of the members that something should be done to overcome this; before a serious mishap is brought about by these pranks, which were no doubt caused by some thoughtless individuals.
The Board passed the following resolution:
Whereas the Board has been made aware that certain powerful American interests are anxious to acquire the Pacific Great Eastern Railway and have approached the Government with this in view;
And whereas it appears that these interests not only have a keen appreciation of the value of the Railway as an integral part in the broad scheme of communications for the defense of the entire continent, but as well as fully cognizant of the vast resources tributary to the Railway, and propose a definite program for their development;
And whereas it is our belief that sale to these interests would redound to the benefit of the whole territory served by the P.G.E.;
Now therefore, we, the members of the Squamish and Howe Sound District Board of Trade in meeting assembled do hereby record our emphatic approval of any move making for the sale of the Railway to private interests on reasonable terms, and we respectfully urge the Provincial Government to act accordingly.
Prince Phillip, in addition to being the king's son-in-law, is also his aide-de-camp.
HALLOWE'EN MARKED BY VANDALISM
Again Hallowe'en has come and gone!
This year's celebration was marked by an abundance of fire crackers, the first real display in some years. The usual number of small goblins and witches presented themselves at doors for treats. All this is fun.
But why must the occasion be marred by some who seem to obtain sadistic enjoyment out of vandalism; Removing gates is one thing, but destroying them another. Ties and rails across roads could easily cause a serious traffic accident. And why upset a truck letting the oil run out of the transmission and the acid out of the batteries. And if there's spare paint around, why not use it on an unpainted fence, instead of putting it on one that is an asset to our community?
As for the fire sirens! Some day we may have a real blaze and it's doubtful if anyone will turn out. Just the old story of the boy and the wolf.
Let's keep these things in mind and attempt to find a remedy before another year rolls around.
SUPERSTITIOUS?
No one will ever be able to convince Mr Zack or Sonnie Rennie that there's nothing in this story about 13 being unlucky.
On October 13th Mr Zack and his son Fred were going about their business of felling trees for the Squamish Towing Co. with a power saw. About 3 o'clock in the afternoon they cut down a tree against which a small maple was leaning. The maple swayed to and fro, the top finally breaking off. It hit Mr Zack on the head and across his shoulder, throwing him face down upon a log well covered with knots which cut his face badly.
Brought to Squamish on a stretcher, Mr Zack was treated by Dr L.C. Kindree. Besides a badly bruised shoulder and forearm, the cut on Mr Zack's nose needed seven stitches and that on his chin five stitches. The loss of two lower teeth may also be charged to that maple tree.
On the same day Sonnie Rennie lost a piece of an index finger while loading logs on his truck.
Both men are very thankful that it wasn't Friday as well as the 13th.
LOCAL STORM DAMAGES SQUAMISH RESIDENCE
Accustomed to winds, the people of Squamish usually sleep soundly through a storm. Recently, however, a few people had cause to waken.
A fair sized alder tree at the corner of Carl Smith's house, its roots undermined by the waters of the slough fell a victim to a high wind. Being a tree of discernment it fell very carefully across the slough, narrowly missing Smith's house.
A big, dead spruce tree, standing in Les Moule's yard was not nearly as considerate. Falling before the strong south wind, it hit the southeast corner of Fred Julian's new house, missing by a couple of feet, the bed in which Mr and Mrs Riley were sleeping. Needless to say, they were rudely awakened.
Sometime previously, Mr Moule and Mr Julian had decided to cut that tree down before it did any damage. Mother Nature, took matters into her own hands but believe me, it won't happen again. The other Sunday, five sound trees in the vicinity were cut down peacefully. Now let the wind blow!
W. ARNOLD
(Continued from Page One)
the new Boiler House went into operation this summer, Mr Arnold had under his charge the oldest battery of boilers in operation in British Columbia - and they were giving good service up to the last day.
During his "off duty" hours Mr Arnold has, since 1920, made a hobby of the construction of violins, and he has been most successful in this field.
One of his instruments is played by R. Hislop and by Sonny Richardson; the latter can be heard on Tuesday nights from 7:15 to 8:00 p.m. over Station CJOR in the programme "Harmony House".
Mr and Mrs Arnold are retiring to live in Vancouver where he has prepared for himself a workshop where he can continue his work on his "Fiddles", and needless to say, everyone in Woodfibre wishes them all health, happiness, and success in their new home.
Mr W. N. Parkin, who has been Assistant Chief Engineer for many years, is taking Mr Arnold's place as Chief Engineer.
HOSPITAL PLANS
(Continued from Page 1)
Accordingly, a committee was appointed to look further into this matter; paying special attention to available grants, a hospital suited to the community's needs and to consider local ability to build and keep up such a hospital. Once the committee has obtained all the information possible, a public meeting will be called to discuss the matter further, and to obtain the opinion and wishes of the community as a whole.
Among those on the committee of investigation are: J. Castle, S.R. Bishop, Dr Wilkinson, Dr Kindree, Mrs R. McCormack, Mr S. Clarke, Mrs S. Clarke, Mrs A. McRae, Mr C. Marchant, Mr W. Gedge, Mr G. R. Dent and Mr A. Hendrickson.
Watch for the date of the community meeting. It is to be hoped that every interested citizen will make a point of being present.
"Of the original inhabitants (of Newfoundland), a sturdy brown race of peaceful and clever little people, called Beothucks, perhaps the less said the better. They were wilfully destroyed, being hunted down like wild animals," - Encyclopedia Britannica.
If you're a man of few words, you won't have to take so many of them back.
REVISED FALL FAIR PRIZE LIST
Following the recent very successful Fall Fair on Labour Day the committee in charge revised the Prize List.
Entries in the Vegetable, Flower, Cooking, Dairy, Produce and Poultry Sections will remain virtually the same. The Needlework Section, however, has been greatly enlarged as busy workers have almost a full year in which to make articles. The work to be exhibited at the next Fall Fair must be completed after September 6, 1948. The revised Needlework Class follows:
Crochet Doily under 12 inches.
Crochet Doily with linen center.
Crochet Centerpiece over 12 inches and under 24.
Embroidered luncheon cloth, any finish.
Cutwork, any article.
Colored Silk Embroidery.
Colored cotton embroidery.
White cotton embroidery.
Smocking, any article.
Knitted sweater, men's sleeveless.
Knitted sweater, men's.
Knitted sweater, women's.
Knitted sweater, women's cardigan.
Knitted sweater, boy's.
Knitted sweater, girl's.
Socks, men's plain.
Socks, men's fancy.
Socks, child's knee length.
Socks, child's ankle.
Baby's sweater.
Child's knitted dress.
Quilt, pieced in cotton.
Hooked rug.
Best flour sack article for household use.
Best flour sack article for wearing apparel.
Best article made from a worn garment.
Best article made from a gunny sack.
Best dress made from cotton.
Best dress made from any other material.
Best darned sock.
Applique, any article.
Cross-stitch, any article.
Tatting, any article.
CHILD'S SECTION
Best embroidered article.
Best knitted article.
Best crocheted article.
Best darned sock.
Following a Hobby and Craft
Section.
WOMEN'S CLASSES
Rug, any except hooked.
Needlework, other than above.
Any other craft not covered in aforementioned classes.
MEN'S CLASSES
Woodworking, any article.
Hand Made Fishing Rod.
Hand Made Gun Stock.
Hand Made Fishing Spoon.
Hand tied Flies.
Any other craft.
CHILDREN'S CLASS (under 16 years)
Woodwork, any article.
Any child's hobby, not covered by any above class.
ACTIVE P.T.A.
On October 16, the Squamish P.T.A. held their monthly meeting at the Mashiter School. Those attending found that the organization plans a busy season.
Mrs. B. Valde reported that plans had been made to add two stalls to the bicycle shed to keep pace with the growth of the school attendance. The approach to the shed will be gravelled before the rainy season.
The P.T.A. will sponsor a scholarship of $150 to be awarded to the most deserving student in Grade XII for further education.
A report of the recent hospital meeting was heard and the organization as a whole pledged its whole hearted support to the Hospital Committee.
Plans were made for a sale of renovated toys. Anyone having slightly broken or disused toys is asked to take them to Mrs Stan Clarke, or to Mrs E. Judd, if living in Brackendale.
Both the radio and the phonograph at the school are showing the scars of old age after a very busy life. Mr. Hayes will ask the School Board to obtain a new radio gramophone through the Board of Education; the P.T.A. to bear the cost.
In order to offset expenses, a committee was chosen to consider ways and means of raising money.
Mr. Hayes then addressed the meeting choosing "The Gilded Cage" as his topic. He dealt with the varioud problems confronting a guidance teacher. This new department deals wth instruction in sex, alcoholics, manners, and is designed
to assist pupils in their choice of a vocation. The aim of the course is to help each student to develop along individual lines to the best of his ability.
Remember to return your membership envelope and become a member of P.T.A.
P.T.A. HOLDS PARTY
Last Friday in the Parish Hall, the Squamish P.T.A. sponsored a very successful party.
The evening began with a few games of Bingo, then a few tables of Whist, after which everyone was ready for eats. A rousing singsong followed the refreshments, the affair endlng with a small dance.
The P.T.A. quilt admired by so many whlle on display, will help to keep Russell Lamport warm this winter. The lucky guy!
The prizes for whist went to Mrs. E. Aldridge and Mrs. Alex Munro for high scores, while Mrs. Sandd and Mr. Ken Richardson won the booby prizes.
Mr. Somerskill kindly played the piano for the singsong and dance.
BUSY AUXILIARY
The Women's Auxiliary to the Squamish Branch ot the Canadian Legion; No. 115, was held in the dining-room of the P.G.E. Hall on Tuesday, October' 12, 1948, with twenty-five members present.
The followiing members were initiated: Mesdames M. Lamport, M. M. Harrison, F. Helen Hohn, D. M. Harding, L. I. Sullivan, V. P. Hinde, E. I. McNamee, I. M. Nichols,
Elizabeth Lutes.
The President, Mrs. H. McCormack, gave a brief report of a meeting of representatives of the organizations, sponsored by the Auxiliary, at which a Hospital Committee was formed. Prospects for a local hospital appear to be
very brignt.
The ladies in charge of the boxes for "Overseas Parcels for Veterans" at the Red and White Store, and Mackenzies Store reported that quite a number of very needy articles were received. These boxes will be placed in the two stores one day each month, and everyone is requested to keep this in mind, and be on the lookout for them. This is a very worthy cause, and your donations art
gratefully received.
A Tag Day for the Canadian National Institute for the Blind will be held shortly, with the aid of the High School Students; and it is hoped that this appeal will alsc
receive your wholehearted support.
Anyone having old magazines, particularly the smaller ones such as the various "Digests", etc., are requested to pass them along to the Auxiliary to be fowarded to the Veterans at Shaughnessy Hospital.
Old Christmas cards are also acceptable. These should not be marred in any way. The cards are sent to a Veterans Club, and they put them through a process which removes any writing, as this removes any writing, or printing, and makes them as good as new. So bring them just as they are - do not try to erase any writing as this renders them useless.
Tea Hostesses for the evening were: Mesdames, Reeve, Reynolds, and Laura Sullivan.
A giraffe can gallop at a speed of 30 miles an hour.
BOARD OF TRADE MEETING
At the October meeting of the Squamish and Howe Sound District Board of Trade, the following applicants were accepted as members: Dr A. H. Wilkinson, dentist; Mr A.F. Mitchell, barber; Alexander Sullivan, hotelkeeper; Mr John A. Phillip, mechanic and Mr Duncan Cameron, restaurant operator.
The main topics of discussion were flood control for the valley; and the Garibaldi Park Highway. In view of the damage done to the road between the Joyce Ranch and the home of Mrs. Meehan by the river last June, valley residents hope that the Board of Trade will be successful in its efforts to prevent further danger to persons and property from the swollen river.
WHY DOES IT GET LATE SO EARLY?
IT'S ALMOST CHRISTMAS..
and time to shop the easy way
Coming in and looking is much better than being disappointed by mail.
Presents for all the family at
WHALEN'S DRY GOODS
WOODFIBRE
FILL YOUR GIFT LIST WITH THESE
"SURE-FIRE" SATISFIERS
CAMERAS, GIFT PIPES, RONSON LIGHTERS, WATCHES, CLOCKS, PENS, RADIOS, RECORDS, ELECTRIC RAZORS, COSMETIC SETS, DRESSERWARE SETS, SHAVING SETS, BOXED STATIONERY, PHOTO ALBUMS, MAGAZINE SUBSCRIPTIONS X-ACTO SETS
SEE OUR SELECTION OF CHRISTMAS CARDS
JACK SPINK, WOODFIBRE
YOUR FRIENDLY SPOT
HELP PREVENT T.B.
BUY AND USE CHRISTMAS SEALS
THE SEAL THAT LIVES.. AND LETS LIVE
Christmas Seals live throughout the year... making possible 365 days of tuberculosis education, X-ray examination, patient rehabilitation and medical research.
The result? They help save thousands of lives a year.
As always, the 1949 program of the tuberculosis associations will be financed by your purchase of Christmas Seals. So please, take just a moment - send in your contribution today.
BUY CHRISTMAS SEALS
THIS SPACE DONATED BY DEL MAR CAFE
HURREN'S READY-TOO-WEAR
SQUAMISH
SING A SONG OF CHRISTMAS SEALS!
THIS SPACE SPONSORED BY NEWPORT HOTEL LIMITED
YOUR HOME AWAY FROM HOME
A.E. GROSS
It's part of the Canadian Christmas spirit - to give the greatest gift of all... health, life itself.
It began in 1904, this idea of buying Christmas Seals to overcome tuberculosis... and each Christmas since, the crescendo has swelled. Last year, it reached a mighty chorus of nearly a million Canadian families.
You probably were included; thank you, and thank you again. If not, join in. Add even a tiny remembrance to the bottom of this year's Christmas list. Send your contribution to your Tuberculosis Association today, please.
Relation (isLocatedAt)
Digital object metadata
Filename
19481112_Squamish_Review.pdf
Uploaded
December 15, 2011 1:15 PM
Digital object (Master) rights area
Digital object (Reference) rights area
Digital object (Thumbnail) rights area