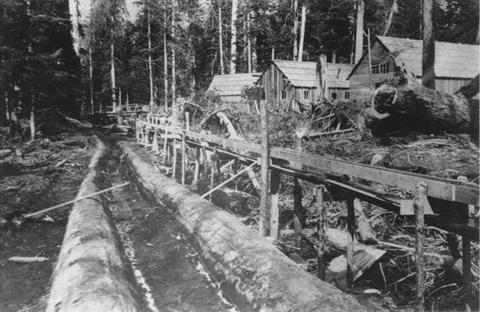 Elements area
Description
Logging camp owned and operated by Allan and Charles Barbour - about 1907.
Research compiled by Eric Andersen, 2011: This photo, apparently taken by one of the Magee brothers, shows the construction phase of the flume project. The location is at the west side of the Squamish Timber Company camp, just above the bank of the Brohm River, which is to the left from this scene. It is difficult to tell from the photograph whether the water for the flume is being led from the Brohm River (in the back and to the left of of the photo) or the Cheekye River (around to the right). Either is possible. The Squamish Timber Co. camp and the beginning of the flume lies between the Brohm River and the Cheekye River. Water for the flume might be more easily taken from the Brohm which is closer, however the Cheekye has a steeper gradient. The larger the logs to be flumed, and the steeper the grade, the more water is required.
The log flume was probably used for transporting long cedar shingle bolts, in standard 16-18 foot lengths. These would be boomed in the river, perhaps in the Jimmy Jimmy Slough (Judd Slough), and then delivered elsewhere for manufacturing into roofing shingles.
Subject
Subject
Source
Andersen, Eric. (2011). Squamish Timber Company's Cheekye log flume, built in 1910. Posters lent to the Squamish Public Library, Squamish, BC.
Relation (isLocatedAt)
Coverage (spatial)
Digital object (Master) rights area
Digital object (Reference) rights area
Digital object (Thumbnail) rights area