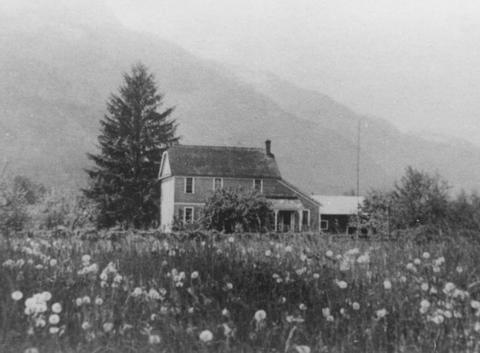 Elements area
Subject
Subject
Description
Judd home built in 1916. Still standing on Judd Road in Brackendale.
Although not the oldest structure in Squamish, the Judd Home (1199 Judd Road) is regarded by many to be one of the District's primary heritage resources, providing an important anchor in reconstructing the early history and development of Brackendale and Squamish. It is in association with the Judd Home that many other local heritage sites are best interpreted. Henry Judd (or Harry, as he was also known) and his wife Anne were among that small group of settlers which included the Robertsons, the Raes, William Mashiter, E.B. Madill, George Magee, Tom Reid, and a few others who are now regarded as the Pioneers of the Squamish Valley.
Having made purchase by public lottery of a major piece of property covering much of what is Brackendale today, Henry Judd arrived in the Valley in 1889 to begin farming his land. Building his original home at the present site of the Brennan Home, Judd sold that house to his parents after marrying Barbara Anne Edwards, who had come to work at the Squamish Valley Hop Ranch. A new home was built by the young couple on the site of the present Judd House.
The present form of Brackendale did not begin to take shape until the subdivision of the Judd property in 1910 into 20 large lots along the Government Road, including the original lot purchased for the Brackendale Store. The original Judd Home itself burnt to the ground in 1916 and was rebuilt as the structure which stands there today as the current home of Mrs Farquharson, one of Henry and Anne Judd's youngest daughters.
Although not a "grand" structure, the Judd Home is nonetheless an attractive example of the functional charm of Western farm homes of the early part of the century. Perhaps more importantly, the Judd home and the lovely surrounding property on which it stands are a reminder of the farming history of Brackendale, and the industriousness of the earliest settlers in Squamish.
Original use: Private residential / farmhouse.
Current use: Private residential.
Current condition: Although some renovation has occurred, the Judd Home maintains most of its original form. Some restoration would be required to bring it back to its original condition. The large property on which it stands is beautifully landscaped and private, allowing a setting which adds to the character of the house.
Source
Squamish Public Library (1993). Preliminary Squamish Heritage Inventory.
Relation (isLocatedAt)
Coverage (spatial)
Digital object metadata
Uploaded
October 18, 2011 12:57 PM
Digital object (Master) rights area
Digital object (Reference) rights area
Digital object (Thumbnail) rights area