Showing 3 results
Resource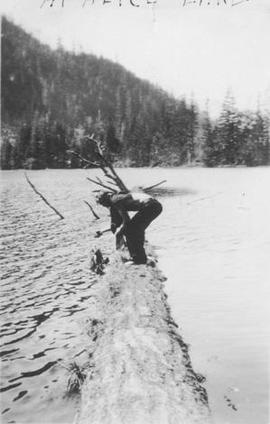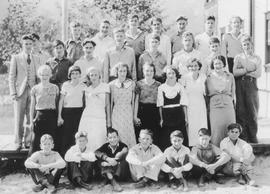 Grade 9 & 19, Squamish Public School 1933 - 1934
Left to right, first row: David Magee, Stanley Johnson, Noel Mulhern, Mike Buckley, Tony Martin, Billy Machin, Barney Blundell.
2nd row: Anne Lasser, Josephine Martin, Betty Hunt, Kate James, Margareta Armstrong, Pauline Powell, Vivian Ingraham, Bonnie Thorne.
3rd row: Mr Aby Cameron, Keith Green, Cleveland Dawson, Herbert Rae, Bill McAllister, Cameron Magee, Charlie Barnfield, Leslie Magee.
4th row: Lloyd Ingraham, Bob Armstrong, Borden Dawson, Carl Johnson, Bob Lasser, George Percy, Jack Quick, Norman McDonald.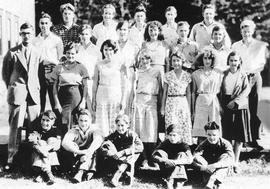 Left to right, 4th row: Norm MacDonald, Jack Quick, Les Moule, Jack Hutton.
3rd row: Lloyd Ingraham, Borden Dawson, Bernice Lowe, Bonnie Thorne, Bill Prendergast, Carl Johnson, Russel Lamoport.
2nd row: Jerry Lee (teacher), Mary Munro, Sylvia Edwards, Margaret Armstrong, Pauline Powell, Kate James, Vivian Ingraham.
1st row: Bill McAllister, Cleve Dawson, George Percy, Charlie Barnfield, George Geoffry.