Showing 2 results
Resource
Fred Thorne's house that was between the 1984 site of Mamquam Elementary and Howe Sound Equipment.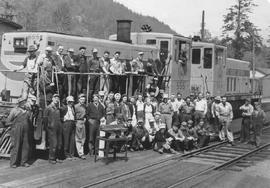 PGE shops - retirement of Harold Bailey, 1951
Left to right, top row: Mr Vogle, Les Moule, Bill Richmond, Owen Reeve, ?, George Appleyard, Fred Barnfield, Bill McAllister, Les Walton, Tommy Gilgan, Russ Lamport, Brian Buckley, ?, Jimmy Harley (in loco).
Third row: Bill Curran, Len Gorsuch.
Second row: Eric Axen, Art Anglin, Ed Aldridge, Jack Frost, Tommy Fowler, Harold Bailey, Don Robinson, Frank King, Rosie Zack, Lil Hutchinson, Christy Wheatley, Mrs Tremblay, Margaret Thorne, Bill Hales, Bob Slack, Harry Brightbill, Bob Bruce, ?, ?, ?, ?, Joe Gault, Joe Mulhern, Bill Riley, Barry Hunt, Cy Marchant, Bill Bazley.
Front row: Jim Taylor, Jim Hurren, Ivo Confortin, Jim Robinson, Tommy Fraser, Bill Gedge.
Dennis or Buzz Downer, ?, ,?, Arnold Kermein.