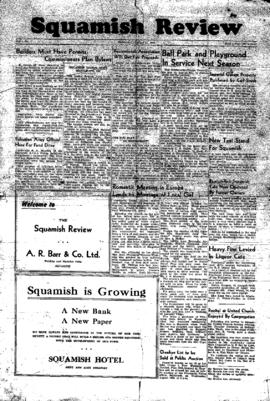 Squamish Review: Wednesday, August 11, 1948
BUILDERS MUST HAVE PERMITS; COMMISSIONERS PLAN BYLAWS
In future, all those planning to erect any building in Squamish are required to obtain a building permit from the commissioners of the village. Those taking out permits must conform to regulations laid down in bylaws passed by the Board of Commissioners.
The board is now working on the consolidation of the map showing the plan of the incorporated area. The municipality now takes in the area from the high water mark on the south to Pemberton Road on the north, and from 7th Street on the west to the east branch of the Squamish River. The population of the incorporated area is roughly 600.
Sanitation, trade license and traffic bylaws are under consideration.
The commissioners are now investigating and considering the replacement of present timber sidewalks with hard-surfaced walks.
SALVATION ARMY OFFICIAL HERE FOR FUND DRIVE
Adjutant S.A. Mundey of the Salvation Army Public Relations department, Vancouver has been visiting Squamish and district in connection with the Annual Red Shield Apeal.
The purpose of Adjutant Mundey's trip here was to thank local residents for their support in previous campaigns and at the same time conduct the annual canvas.
The appreciation of the Army for the assistance of Mr W. Harvey and his local committee was expressed by Adjutant Mundey.
A.R. BARR & CO. LTD.
Welding and Machine Shop
SQUAMISH LEGION NEWS, BRANCH NO. 115
The Legion Branch here is undertaking a drive for new members. All veterans wishing to join please get in touch with the secretary, James Woodward. All members are requested to have their dues paid up as soon as possible.
Don't forget the Legion Dances every Saturday night. Modern music by our local orchestra. All monies are used for the benefit of needy veterans and bereaved widows that are in need of assistance.
Remember the gala party on 14th of August. An invitation has been extended to the branches at Woodfibre and Britannia. This is to promote better community spirit between the three branches.
The Legion women are also extended an invitation.
Credit is given to Jack Mahood and the sports committee for their interest in helping the Pro-Rec with junior softball teams. They are advocating games with the Juniors at Britannia and Woodfibre. Let's give them our support. Games on ever Monday night.
The Legion also extend their appreciation to the women of the W.A. for their help in the Legion's recent Benefit Whist Drive and Flood Relief Dance.
They certainly are a credit to our branch. Thank you, ladies.
Our softball team is getting in the lead again. Here's hoping the next game will see them in the running for first place. Come on, fellows, let's get behind the team.
Because of petrol rationing, horse-drawn coaches are in evidence again in England.
RECREATIONAL ASSOCIATION WILL GET FAIR PROCEEDS
Plans for the Squamish Valley Fall Fair and Labor Day, are being enlarged and the committee feels confident the project will be a success.
This will be the first Fall Fair since 1939 and much preparation must be made to organize it.
In former years the farmers and the Women's Institute were the sponsors. The Squamish Recreational Association is staging the fair this year. The proceeds will be used to buy equipment for the association.
The program will include sports events, the country fair, and bingo and other games. A large dance with a local orchestra supplying the music will be the big feature in the evening.
The Country Fair, principal attraction of the day, will have a large prize list. Local grown produce, flowers, handicrafts and various other exhibits will be on display.
CAN YOU PLAY AN INSTRUMENT?
Anyone who can play any type of band instrument is asked to contact Jack Pearce at McKenzie's who is organizing a Squamish band.
If you have an instrument all the better but if you can play one come along and an instrument will be provided. Can you play a flute, clarinet, saxophone, trumpet, alto horn, trombone, baritone or basedrum, snare drum or any other band instrument.
All interested in the formation of a Squamish Band are welcomed.
BALL PARK AND PLAYGROUND IN SERVICE NEXT SEASON
The Community Centre Committee met on August 4th, to discuss plans for the project.
Plans include the hope of constructing a baseball park and kiddies' playground this year while the long range objective includes the building of tennis courts and a full sized swimming pool.
The project also calls for the erection of a war memorial on a portion of the park set aside for that purpose. Park benches, picnic tables, swings and teeter totters will also be provided.
Work on the park is being done as a community effort and four acres have been cleared at little or no cost. Grass has yet to be planted and it is expected that the playground and baseball diamond will be in service next year.
A park board has been set up with seven members of the Board of Trade and one member each from the Canadian Legion, P.-T.A., B.P.O.E., Women's Auxiliary to the Legion, Squamish Recreational Association, and the P.G.E. Employees' Association.
Among those on the board are: Chairman C.H. Smith, Mrs. Rose Tatlow, J.I. Morrison, G. Dent, P. Drenka, A. Hendrickson, G. Aalton, R. Binnings, J. Woodward, R. Chapman and Mrs. J.R. Morrison.
The committee wishes on behalf of the community to extend thanks to those who donated their services and material.
The park and centre is a community enterprise and citizens are urged to support the program in every way possible.
IMPERIAL GARAGE PROPERTY PURCHASED BY CARL SMITH
The building housing the Imperial Service Garage has been purchased from F.B. Scott by Carl H. Smith who has been renting the garage for the past two years. Additional space will provide a stockroom and showroom for tires and accessories as well as office accommodation.
Mr Scott is returning to his former office opposite Yarwood's Drug Store, where he will carry on his insurance and real estate business.
The real estate office will also be occupied by Watt Hendrickson Logging Company who have taken over the building. Remodelling of office is now under way.
NEW TAXI STAND FOR SQUAMISH
A taxi stand and waiting room will be erected on the lot adjoining McKenzie's warehouse on Cleveland Avenue.
The property was recently purchased by Johnson and Worthington. Work on the new building is expected to commence soon.
REMODELLED SQUAMISH CAFE NOW OPERATED BY FORMER OWNERS
After a year's absence, Larry and Audrey Cameron are back again operating the Squamish Cafe. As before the Camerons are playing host to a crowd of old friends and well wishers.
The cafe looks spic and span with its color scheme of soft blue and rose. The seating arrangement is nicely planned and it is a pleasure to have a meal or snack in such a cheerful atmosphere.
Not to be overlooked is the sign over the door, which has a sketch of Mount Garibaldi under the lettering.
ROMANTIC MEETING IN EUROPE LEADS TO MARRIAGE OF LOCAL GIRL
Leonard, Texas shares honors with Squamish in the marriage of Frances A. Scott daughter of Mr and Mrs Frank B. Scott to Captain Paul Williams U.S. Army.
Entering the church on the arm of her father who gave her in marriage, the bride looked lovely in her period gown of white slipper satin fashioned in bustle effect, slightly en train, with sweetheart neckline and lily point sleeves. Her embroidered veil cascaded from a tiara of seed pearls and she carried a shower bouquet of red roses and gardenias. For something old she wore a pearl necklace and earrings belonging to her aunt Mrs Smith of Kingston, Washington.
She was attended by her sister Mrs Matt Phillips of Tacoma, Washington who was gowned in blue taffeta with embossed taffeta bodice. Her bouquet was of deep pink carnations. Mr Phillips was best man.
The bridesmaids were Patricia McCormack in green; Theresa Martin in yellow; Ruth Morrison in blue; and Shirley Roberts the brides niece in pink. Their gowns similarly fashioned in bouffant style were of taffeta with matching headdress and mitts. They carried cascade bouquets of carnations in contrasting colors.
Mrs Scott mother of the bride wore rosewood crepe in the new mode, with cocoa brown accessories.
During the signing of the register Mrs Skarzynski sang "Because." Nuptial music was given by Mrs A. McRae.
The ushers were Raymond Rebagliotte, Patrick Brennan, Roy Binning and the bride's nephew Earl Phillips of Tacoma, Washington.
The church was beautifully decorated for the occasion.
The reception was held in the Parish Hall. The decoration scheme was carried out in Pastel Sweet Peas and pink roses, the bride's table having a large centerpiece of sweet peas flanked by pink tapers in silver sconces. The toast to the bride was given by Mr J.R. Morrison.
The groom's gift to the bride was a diamond set ring and to the ushers gold tie pins. From the bride, the bridesmaids received gold necklaces.
For going away the bride wore a three piece suit of dove grey crepe fur trimmed with raspberry colored accessories and mauve orchid corsage.
The honeymoon will be spent in a leisurely motor trip, which will include a visit to the groom's parents Mr and Mrs Geo. S. Williams of Leonard, Texas.
The bride a graduate of Wyoming Girls School in Wyoming Ohio has travelled extensively. She was in Honolulu when Pearl Harbor was attacked and since the war has travelled in Holland, France, Belgium, Italy, Switzerland, Austria and Germany. It was while a guest of her brother-in-law and sister Major and Mrs Merle Reynolds that she met Captain Williams.
CHEEKYE LOT TO BE SOLD AT PUBLIC AUCTION
Property known as lot 10 of Lot 3182, Group 1, New Westminster District, Plan 5123, located at Cheekye will be offered for sale at public auction at the Provincial Police office, Squamish, on Wednesday, August 18th, at 2pm.
HEAVY FINE LEVIED IN LIQUOR CASE
Provincial police are continuing their drive against infractions of the B.C. Liquor Act.
As a result of charges laid by the Squamish detachment of the B.C. Provincial Police, Frank Carrachelo of the Pemberton Hotel, Pemberton was fined $300 for supplying liquor to a minor.
James Morgan, 18, charged with unlawful possession of liquor was assessed $25. Allan Wilson, 20, was fined $15 on the same charge.
The fines were levied by Magistrate H. Wyatt-Purden at Creek Side.
RECITAL AT UNITED CHURCH ENJOYED BY CONGREGATION
Following the service in Squamish United Church Sunday evening, Mr Gunnar Anderson of Bellingham Washington, who is the guest of Mr and Mrs B. Valde, gave a short piano recital.
His rendition was very much appreciated by the congregation. Included in Mr Anderson's recital were Consolation in D flat by Liszt, The Spinners by Phene, Baton Espani cani by Copeland and Polaniae in A Flat Major by Chopin.
To conclude the recital Mr and Mrs George Ellis of Calgary sang "When You Come to the End of a Perfect Day."
My Bonnie lies over the ocean,
My Bonnie lies over the sea;
When she writes of undying devotion,
My Bonnie lies, obviously.
THE SQUAMISH REVIEW
An independent newspaper published on the second Wednesday of each month at Squamish, British Columbia, serving the Squamish Valley, Woodfibre and Britannia Beach.
F.R. Bingham, Publisher
Office of the Review is located in the Yarwood Drug Store, Squamish, BC
P.G.E. SUPERINTENDENT JOINS ONTARIO RAILWAY
It is with sincere regret the citizens of Squamish view the departure of Mr and Mrs J.W. Miller and family, who will reside in North Bay, Ontario.
Mr Miller has been superintendent of the Pacific Great Eastern Railway here for the past year. In North Bay Mr Miller will be associated with the Timiskaming and Northern Ontario Railway.
Mr I. Boomer is acting superintendent of the P.G.E. until a successor to Mr Miller is appointed.
EDITORIAL
Great opportunity lies before Squamish. Squamish and the Pacific Great Eastern Railway are becoming familiar names all over the continent and with the much discussed possibility of the extension of the P.G.E. to Alaska, much interest is being taken in this community. Tremendous mineral and timber wealth lies on our doorstep and the door is opening to opportunity.
With this issue we present the Squamish Review an independent newspaper devoted to the interests of Squamish. We are making the Review your newspaper, giving our readers all the and opening its columns to public opinion. The Review will support any movement that fosters the interests and promotes the development of Squamish.
The building of a newspaper like the development of a town or city takes time, but we have faith in the future of Squamish and with it the future of the Review.
OPERATIONS TO RESUME AT SURF INLET MINE
The Surf Inlet Mining Company has been taken over by McVicar Properties. Under the new management, Mr A. Ingraham is mining engineer, Mr Rose, general manager, and Mr Angus McLeod, mine superintendent.
Keys Construction Company will be diamond drilling on the property in about two weeks.
SUNDAY SCHOOL PICNIC ENJOYED BY CHILDREN
The weatherman smiled favorably upon the Squamish United Church Sunday School picnic, held at Judd's Slough, on Wednesday, July 21st.
Mr McColl provided transportation for a bus load of children and adults, all of whom were out to enjoy the day. Lunch, of course, was the major item on the children's list of pleasures.
After a brief rest, a full program of sports occupied their attention. Following are the winners of the various events:
Tiny Tots race (1) David Harris (2) Harvey Halvorson.
Girls Race 5, 6, 7 (1) Beverley Long (2) Karen Halvorson.
Boy's Race 5, 6, 7 (1) Buzzy Purch, Jimmy McDougall (tie) (2) Bobby Moule.
Girl's Race 8, 9, 10 (1) Jackie Long (2) Margot Purch.
Boy's Race 8, 9, 10 (1) Lyall Long (2) Allan Thompson
Girl's Race (Open) 1. Jackie Long (2) Lynette Munro.
Boy's Race (Open) 1. Dan Munro (2) Lyall Long.
Girl's Sack Race 1. Dolores Tatlow 2. Margo Purch.
Boy's Sack Race 1. Thor Halvorson 2. Dan Munro.
Girl's Shoe Race 1. Margot Purch 2. Dolores Tatlow.
Boy's Shoe Race 1. Thor Halvorson 2. Dan Munro.
Boy's Three-legged Race 1. Dan Munro and Thor Halvorson 2. Wayne and Gray Mitchell.
Girl's Three-legged Race 1. Dolores Tatlow and Lynette Munro 2. Donna Harris and Janet Casey.
Girl's Wheelbarrow Race 1. Dolores Tatlow and Jackie Long 2. Lynette Munro and Beverley Long.
Boy's Wheelbarrow Race 1. Dan Munro and Thor Halvorson 2. Gray and Wayne Mitchell.
Girl's Potato Race 1. Dolores Tatlow 2. Janet Casey.
Boy's Potato Race 1. Thor Halvorson 2. Dan Munro.
Peanut Race 1. Dan and Lynette Munro 2. Thor Halvorson and Dolores Tatlow
The Girl's Relay Race was won by a team comprised of Dolores Tatlow, Jackie Long, Janet Casey and Donna Harris. The Boy's Relay Race was won by Dan Munro, Thor Halvorson, Lyall Long and Gray Mitchell.
The Reverend Chas. Addyman was master of ceremonies for the occasion while the entertainment in the hands of Mrs Harris, Mrs D.D. Morrison and Mrs Alex Munro.
Girl's Grand Prize was won by Dolores Tatlow who piled up 11 points, while Dan Munro and Thor Halvorson tied in the Boy's section with 12 points.
All agreed that the outing was huge success.
FRESH MEATS - GROCERIES
FRUITS - VEGETABLES
J.D. MANNERS
RED AND WHITE STORE
SQUAMISH BAKERY
BAKERS OF QUALITY PRODUCTS
FLY WITH VANCOUVER'S "U" FLY LTD.
CHARTER SERVICE
PHONE LANGARA 0918
B.C. AIRLINES LIMITED
AIR TAXI
AMBULANCE SERVICE
RICHMOND 1318
VANCOUVER AIPORT
KENNEDY'S HARDWARE
PLUMBING, HEATING, GLASS, OILS
FOR NEWS, READ THE REVIEW
FOR FIRE, CASUALTY AND AUTOMOBILE INSURANCE SEE F.B. SCOTT
YOUR LOCAL AGENT
PHOTO
BIG STUFF... This five pound red snapper is pretty heavy, but would - be - goggled - fisherman, Stephen Dorsett, son of Mr and Mrs Jack Dorsett, Miami, Florida is trying hard to follow in Daddy's footsteps.
P.G.E. NEWS
Mr Robert F. Coleman, P.G.E. Clerk is leaving Squamish in a few days to return ot Edmonton.
Mr Jack Castle is on his annual vacation visiting friends at Saskatoon and other points. He is relieved by Mr R. Wheatley.
Mr R.F. Worthington, vice-president of the Brotherhood of Locomotive Firemen was a recent visitor from Sarnia, Ontario. Mr Millington came to Squamish to install a local lodge of his organization.
Mr H.H. Bailey, master mechanic, has returned from a short vacation.
Mr. R.R. McCormick, chief despatcher, is now on his annual vacation. Mr McCormick is relieved by Mr H.M. Graham.
Mr R. Armstrong has taken a position with the P.G.E.
While diminishing smoke nuisance, useful liquid fuels can be extracted from coal with little loss in heat value.
ST. JOHN THE DIVINE (ANGLICAN)
REVEREND C.H. GIBBS
1st Sunday - 7:30 pm
2nd Sunday - 9:30 am H.C.
3rd Sunday - 7:30 pm
4h Sunday - 11 am
GRADE "A" MILK AND CREAM
SQUAMISH DAIRY
A.R. COOPER
E. ENGLISH
GENERAL MERCHANT
GROCERIES < DRY GOODS > POST OFFICE
BRACKENDALE, BC
YOU'LL ENJOY EATING AT THE WALTZ INN CAFE
MRS D. MCCALLUM
IAN HAMILTON'S SHELL SERVICE
BUD MOORE - SHELL AGENT
PERSONALS
Mr and Mrs H.M. Graham are planning a holiday trip which will take them to Waynesboro, Virginia, to visit their son, Dr Harold Graham and family.
Mrs E.C. Stevens, who has been visiting her daughter Mrs A. Ingraham, has returned by air to her home at Skidegate, Queen Charlotte Islands.
Mr J.H. Dawson has taken the contract for a demolition job for the Jamieson Construction Company at Clinton.
Richard Munro, young son of Mr and Mrs Alex Munro, is visiting Malcolm Campbell of Clinton.
New houses under construction are those of Robert Lasser, William Manson, Budd Moore and Keith Green.
The standing in the Squamish Baseball League is as follows: 1st, Hardwoods; 2nd, Legion; 3rd, Jamiesons, and 4th Recreational Association.
Mrs J.H. Dawson and Mrs George Carson were on a shopping trip to Vancouver last week, in preparation for the Dawson-Carson wedding on September 20.
Congratulations are in order to May Franson for passing her Junior Matriculation exams.
Miss Eleanor Sullivan is enjoying a holiday at Rossland, BC.
Mrs Alex McDondal and daughter, Norma of Williams Lake are visiting the former's mother, Mrs R. McNeil.
Mr and Mrs Leo Davis are the proud parents of a baby boy.
Mrs E. Lasser is visiting her daughter Marjorie and family at Parksville, V.I. Mrs J. Eadie is also holidaying at Nanaimo and Qualicum.
Friends of Mr Paul Powell are pleased to hear that he is back at work.
Mr Robert Coleman, until recently on the office staff of the P.G. E. Railway has taken a position in Edmonton.
The new P.G.E. offices will be ready for occupancy in a few weeks.
Mr W. Harvey, who until recently was telegraph operator in the Government Telegraph Office, is holidaying with his son and family at Bull Harbor, V.I.
Mr and Mrs J. Patrick spent last weekend in Chemainus, V.I.
Mr and Mrs Francis McKinnon and daughters of Bloedel are guests of Mrs A. McKinnon.
Mr and Mrs G.E. Harris with Donna and David and Mrs Edmonds have taken a cottage at Horseshoe Bay for month of August.
Mrs Carl Smith with daughters Penny and Wendy flew from Vancouver on a visit to her parents, Mr and Mrs P. Smith of Rosetown, Saskatchewan.
Mrs Daisy Smith of Kingston, Washington, who was in Squamish for the Williams-Scott wedding was a guest of her sister, Mrs F.B. Scott.
Mr W.H. Nichols and Mr G.E. Harris, representing the P.G.E. Pension Board, are on a business trip to Victoria.
Mrs Marjorie Wilkins of Lasqueti Island and formerly of Squamish, is the guest of Mr and Mrs J. Neil. Mrs Wilkins recently returned form a holiday in Portland. While here she is sketching the scenes she enjoyed while a resident of the town.
Mr J. Castle represented the Squamish B.P.O.E. at the Dominion Convention held in Edmonton recently. He was accompanied by Mrs Castle and a visit to Saskatoon was included in their holiday.
Mr and Mrs J. Gibson spent a very enjoyable holiday at Pender Harbor.
Reverend and Mrs C.H. Gibs have taken up residence at the vicarage. Formerly vicar of the Anglican Church at Gibson's Landing he is now vicar of St. John's Squamish.
Miss Viola Irwin, of Quesnel, who has been visiting her aunt, Mrs H. Nichol, returned to her home recently.
Mr and Mrs S. Blake of Edmonton were guests of the latter's sister, Mrs F. Buckley and Mrs A. McRae, over the weekend.
Mr and Mrs C. Tatlow and family enjoyed a holiday at Parksville, Vancouver Island.
Guests of Mr and Mrs G.S. Clarke over a recent weekend were the former's sister and husband from Ottawa and a niece from Vancouver.
Mr and Mrs Aldridge and Terry are holidaying in Quesnel. Mr and Mrs C. Marchant and family are visiting Mrs Marchant's brother, Mr E. McNamee, Lillooet.
Mr and Mrs George Ellis of Calgary were recent guests of Mr and Mrs J.D. Manners.
The P.G.E. houses are looking gay in the new green paint and it is quite a contrast to the tobacco brown on former years.
Mr and Mrs Martin Halvorson and their children are holidaying at Blue Pool, Lillooet. They were accompanied by Mr Oscar Johnson of Woodfibre.
Friends of Mr A. Sullivan are pleased to hear he is home from the hospital and improving daily.
Mr and Mrs Ed Alridge with son Terry have gone to Quesnel for a holiday.
Mr and Mrs Frank wilson with Patricia and Bobby and niece Joy McKinnon are holidaying at Jordan's Lodge, Alta Lake.
Mr and Mrs E.K. Jackman, the former with the Workmen's Compensation Board, were holidaying with Mrs Jackman's mother, Mrs Lassman.
Mrs L. Earl and son Rob, of Tisdale, Saskatchewan, were recent guests in Squamish.
Mrs Vera Marshall, son Lloyd and daughters Terry and Myrna have been visiting daughter Lorna of the Waltz Inn Cafe. The Marshalls come from Ganges.
Mr and Mrs Ray of Woodfibre were weekend visitors in Squamish.
Mr and Mrs Joe Jamieson of Vancouver stopped over in Squamish while on their way to Birken.
Dr H.A. Wilkinson and Bernard Brown had a very successful angling trip to Nygard's Camp at Mile 40, as did Owen Cameron and Spence Hinde.
Mrs G. Green from Mile 45 P.G.E. stopped over in Squamish en route home from Vancouver.
Mrs Charles Bolding of Moose Jaw, Saskatchewan, visited his son, Norman, of the Government Telegraph office recently.
Among other recent visitors in Squamish were: Reverend V. Galbo of Vancouver; Mr and Mrs Bruce McCallum of Lillooet, and Mr W.H. Tobey, general manager of the P.G.E. Railway.
Mr G. Daniels, school inspector for the Howe Sound School District, and Mrs Daniels, were recent visitors in town.
K.D. Watt returned to Woodfibre after spending a holiday at Rainbow Lodge.
Joe Martinson of Woodfibre spent a few days in Squamish recently.
Off-the-highway trails are planned in France to minimize traffic accidents to hikers.
About five million square miles of the earth's surface is desert.
BIRTHS
to Mr and Mrs Maurice Palmer, a son Gordon, at St. Paul's Hospital, Vancouver.
Boys to Mr and Mrs L. Davis and Mr and Mrs R. Stockman.
A girl to Mr and Mrs J. McKinnon, on August 1.
Biritihs railways are inviting expression of public opinion about color combinations for coaches and locomotives.
PROFESSIONAL CARDS
DR A.H. WILKINSON
DENTIST
OFFICE SCHEDULE
MONDAY, THURSDAY, AND SATURDAY AT SQUAMISH
TUESDAY AT BRITANNIA
FRIDAY AT WOODFIBRE
WEDNESDAY AND SUNDAY OUT FISHING!
DR L.C. KINDREE
PHYSICIAN AND SURGEON
MONDAY TUESDAY THURSDAY FRIDAY SATURDAY
2:00 PM TO 5:00 PM
7:00 PM TO 8:00 PM
RELIABLE TRANSPORTATION
FOR SERVICE TELEPHONE
SLSS
SQUAMISH STAGES LIMITED
ALL TYPES OF TRANSPORTATION
DUNCAN L. CAMERON
SQUAMISH CAFE
RENDEZVOUS OF HOWE SOUND
YOU'LL ENJOY OUR FOOD
IN CONNECTION WITH SQUAMISH HOTEL
LET'S ALL BE SQUAMISH BOOSTERS
BOOSTING WILL BUILD A BIGGER AND BETTER COMMUNITY
DEL MAR CAFE
OPERATED BY VETERANS
HARVEY AND JOHN HURREN
QUALITY SHOE REPAIRS
L. BATTI
WORK SHOES
MEN'S AND BOY'S SHOES
SERVING YOU IN SICKNESS AND IN HEALTH
YARWOOD DRUGS LTD
IMPERIAL SERVICE
C.H. SMITH
AUDLEY END NOW PEOPLE'S
WAS LORD CHANCELLOR
HOUSE PARTLY DEMOLISHED
EDINBURGH FESTIVAL PLANS ELABORATED
TONY'S BARBER SHOP
MACKENZIE'S LIMITED
WHOLESALE AND RETAIL MERCHANTS
WELLS, SQUAMISH, WILLIAMS LAKE
SQUAMISH TOWING AND CONTRACTING CO., LTD.
LOGGING AND GRAVELLING CONTRACTORS
OUR RATES ARE COMPUTED ON A MILEAGE BASIS TO ENSURE FAIR AND EQUITABLE CHARGES, INDEPENDENT OF HEAD WINDS, WEATHER, ETC
ASSOCIATED AIR TAXI LTD
PERSONALIZED SEAPLANE CHARTER SERVICE
1,2,3 AND 4 PASSENGER AIRCRAFT
VANCOUVER MUNICIPAL AIRPORT
PHONE RICHMOND 1551 DAY OR NIGHT
NEWPORT HOTEL LIMITED
YOUR HOME AWAY FROM HOME
A.E. GROSS, MANAGER
Squamish Review