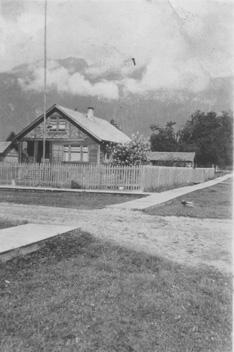 The Harry Billbright home when it was first built. It was located on 2nd Avenue in the current location of the Credit Union then moved to Stan Clarke Park and used as a Museum.
It was built in 1933 for Harry "Brownie" Brightbill, railway engineer on the "Fisherman's Special" from Squamish to Lillooet. It was constructed by Herb Dawson. The house was purchased by the District during the Mayorship of Pat Brennan. Cause for considerable disagreement in the community at the time, it may be argued that the controversy surrounding that decision has only added to any heritage value the building already had.
In June 2000, the Brightbill house was moved to the West Coast Railway Heritage Park and was one of the first exhibits to open in the new Town Square community area.
Condition: It was well maintained the Squamish Museum where it was housed was closed. There were problems with vandalism.
Original use: Residential home.