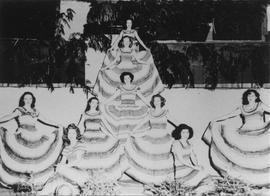 Top: Eleanor Sullivan, Marianne Jacobson, Mae Franson.
Left to right, second row: Shirley Nodd, Anne Morrison, Peggy Lane, Aleeta Smith.
Front row (kneeling): Violet Halvorson, Tess Martin.
38033 Second Avenue
The PGE Hall was built in the 1930's as a local community hall. Built by railway and community volunteers, the PGE Hall was once the site of basketball games, dances, and other gala community events. It later became the Hudson House, and then an empty lot.
Original Use: Community Hall.
1993 use: Rooming House (Hudson House).
1993 condition: Retained original form without significant alteration. Location among newer buildings left the Hall looking somewhat run down.