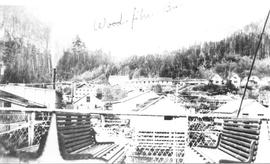 Woodfibre - plant and townsite
The name for the Woodfibre area (once a community but now solely the site of a pulp mill by the same name) was established in 1921 as the result of a contest. The previous was Mill Creek and had to be changed because there was another post office of the same name. The winner of the contest and $50 prize was Cathy Haar.
Squamish Public Library, Squamish Files: Place Names.