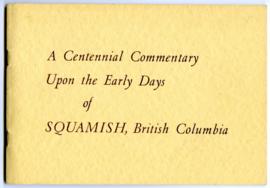 A Centennial Commentary Upon the Early Days of Squamish, British Columbia
A booklet on Squamish history, with photos, stories, maps and more. It was created as a part of British Columbia centennial celebrations that carried across the province in 1958. According to the booklet, 1888 was the beginning of real settlement that led to the formation of the town of Squamish.
Click the picture above to see the whole book. Please note that it may take quite some time to load.
Squamish Centennial Committee