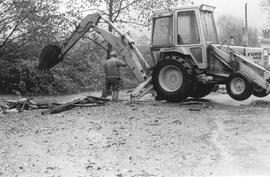 Work at little Stawamus bridge
The actual Indian spelling of Stawamus is STA-a-mus and is a variant of Squamish and means "birthplace of the winds". Pioneers often used "Stamish" instead of "Stawamus". The name refers to the Indian reserve at the mouth of the Squamish River (Reserve #24), the Stawamus River, the area drained by it and the "Chief".
Squamish Public Library, Squamish Files: Place Names.