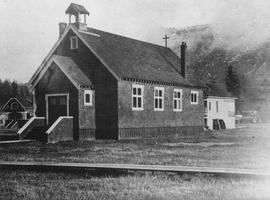 Anglican church.
Church of Saint John the Divine, Newport, BC was erected between May 15th and July 1st, 1913. It was officially opened and dedicated on July 20th, 1913 by the Right Reverend A.U. DePencier, Bishop of the Diocese of New Westminster.
This Anglican Church on Sixth Avenue was the only church north of Gibson's Landing for many years. The church served the needs of the entire Christian community from the earliest days when Mr Mashiter alternated his Anglican Sunday services with Presbyterian Minister Dr. Robert Young, to the first Lutheran services in town held there by Reverend C. Guebert in the late 1950's.
For a brief period in the early 1920's, the church boasted fine stain glass windows until the stone-throwing enthusiasm of local children forced their removal. Many of their children now own windows of their own in Squamish.
The church has now been tastefully converted into a Dance Studio.
Original use: Church.
Current: Dance studio.
Current condition: Well maintained, new use as dance studio respects original character.